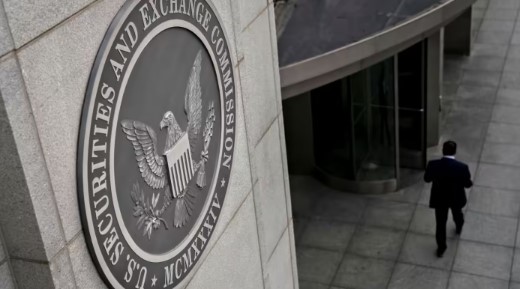 Reports indicate that the SEC is investigating San Francisco-based cryptocurrency exchange Kraken for potential securities law violations.
According to Bloomberg, the investigation is in an advanced stage and could result in a settlement in the near future.
This is not the first time the exchange has been accused of misconduct by federal authorities.
In November, Kraken reached an agreement with the U.S. Treasury Department's Office of Foreign Assets Control to pay a fine of $362,158.70 for violating sanctions against Iran.
The exchange's incoming CEO, Dave Ripley, stated in September that they have no intention of removing any coins or tokens that have been labeled as securities by the SEC.
Thomas Perfumo, head of strategy at Kraken, said that even Kraken, one of the largest centralized crypto exchanges by trading volume, hasn't been immune to the global economy's shifting trends.
"We're not insulated from the broader macro and economic environment," Perfumo told CoinDesk TV's "First Mover", adding that crypto winter "definitely had an effect on the business."
It is important to note that Kraken has shut down its operations in Japan, discontinuing its crypto trading services through its subsidiary Payward Asia and deregistering from Japan's Financial Services Agency on January 31, 2023, as the cryptocurrency industry undergoes consolidation.
In addition to that, the cryptocurrency exchange has also closed its Abu Dhabi office after being open for less than a year, following the acquisition of a local license. This decision is part of its restructuring efforts, which involve reducing its global workforce by nearly one-third and laying off most of its Middle Eastern and North African team, affecting around eight employees.
Perfumo commented on the matter saying that Abu Dhabi and Japan offices were small parts of the business. Now the company is looking to "hunker down and focus on the big core parts." Instead of opening a large number of regional offices, Kraken is limiting the "depth of our services," he explained.
"So in some cases we might not offer access or funding with the local currency," he said. "However, you might be in a particular region where if you have access to bitcoin you can still deposit that bitcoin to Kraken and use some of our other services where it applies."
Kraken is looking to expand in Europe and North America, according to Perfumo, who added the firm is looking to provide "as much possible global access" to the exchange's services where they're applicable. Currently, the exchange is open to U.S. residents except those in New York and Washington State.
Recently, the SEC has taken a stricter approach towards cryptocurrency exchanges. In January, it filed charges against Genesis and Gemini for offering securities that were not registered.
The Chairman of the SEC, Gary Gensler, asserts that many cryptocurrencies, excluding Bitcoin, are considered unregistered securities. As a matter of fact, a security is a financial instrument used to raise capital in public and private markets.
The SEC has increased its efforts to regulate the cryptocurrency sector, with a 50% increase in the number of crypto-related enforcement actions taken in 2022 compared to the previous year.
Gensler also indicated that the cryptocurrency industry is significantly lacking in compliance and existing regulations are in place to safeguard consumers, however, further efforts are required to secure the interests of investors.
U.S. authorities are paying close attention to cryptocurrency trading platforms, particularly in the aftermath of the downfall of FTX. The platform's collapse was due to allegations of criminal mismanagement, leading to the indictment of its former CEO and co-founder, Sam Bankman-Fried, on charges including wire fraud towards clients and participating in a scheme to launder money.