Events
Blockchain Life 2023: Where Crypto Whales and Industry Insiders Converge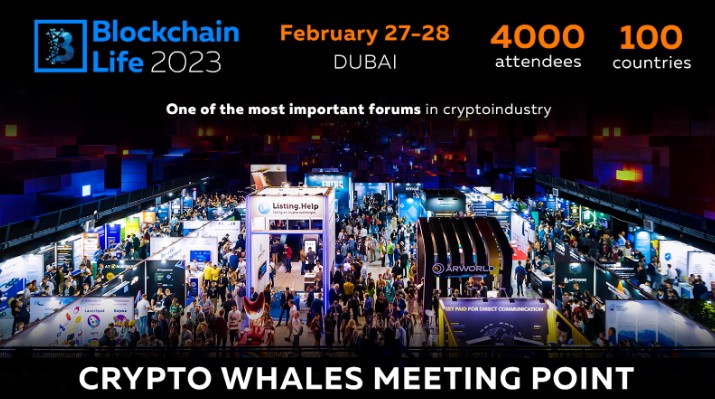 Blockchain Life 2023, the 10th Global Forum on blockchain, cryptocurrencies and mining, is set to take place on February 27th and 28th at Atlantis the Palm, Dubai.
This event is a must-attend for anyone in the industry, bringing together key players, government representatives, and leaders from international companies and funds, as well as investors, startups and beginners.
One of the highlights of the forum is the opportunity to network with the 'Crypto Whales' of the world. These elite members of the crypto community are known for their significant investments and influence in the industry. This is a rare chance for attendees to gain valuable insights and make valuable connections with these industry heavyweights.
With a wide range of attendees and a focus on the latest developments in blockchain, cryptocurrencies and mining, Blockchain Life 2023 is the perfect event for anyone looking to expand their knowledge, network and grow their business.
What to expect?
Whales of the crypto industry all in one place
Top speakers with world-changing insights and analytics
Global expo of the latest Web 3.0 technologies
Breakthrough smart networking app
The legendary AfterParty on the luxury yacht trip
Top speakers
Cem Arcan – Ecosystem Director, Circle
Mehdi Farooq – Senior Tokenomics Analyst at Animoca Brands
Arpit Sharma – Vice President of Polygon Technology
Gabriel Abed – Ambassador of Barbados to the UAE
Vineet Budki – CEO of Cypher Capital
Manan Shah – CEO of Avalanche Global Solution
Ahmed Tehemar – Global Business Development Manager, BNB Chain
Mikhail Gavrilov – CEO & Co-Founder at TON Play
Tone Vays – Trader and Analyst
For more information on the tickets, please click here.
Make sure not to miss out on this premier event in the crypto community!