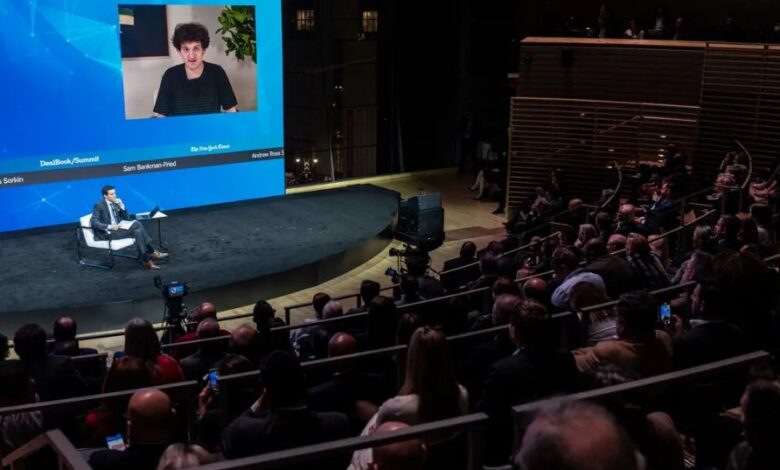 Sam Bankman-Fried, the cryptocurrency billionaire whose company crashed and led to at least two federal investigations, was interviewed on Wednesday at The New York Times's DealBook Summit.
SBF's lawyers did not support his decision to speak, but he decided to do the interview.
"I have a duty to talk and to explain what happened," he said. He added that he "didn't know of times" that he had lied, but said he tried to make FTX seem exciting. "I was as truthful as I'm knowledgeable to be," he said.
"I made a lot of mistakes, never tried to commit fraud," Bankman-Fried told the virtual audience. "I was not really cautious enough from a downside perspective. I was looking at a 30% down move; then what happened was a 95% down move," he said.
SBF was also asked about the board problem. The latter replied that the problem is there were too many boards — FTX Japan, Singapore, Europe, etc. As result, there was no singular entity overseeing SBF's global risk management.
In fact, SBF repeatedly mentioned clients' margin accounts, and said the problem at FTX was a lack of risk control and allowing those margin accounts to grow too large. More evidence that SBF plans to shift the blame of FTX's failure, not to Alameda's bad bets or potentially unlawful shifting of funds, but to clients. The blame-the-customers defense is unlikely to quell the calls from crypto Twitter for his prosecution.
On another note, SBF mentioned that all American customers are "okay" in terms of client assets, but FTX US was included in the bankruptcy. The former CEO kept on making the distinction between FTX US and FTX International, claiming that FTX US, the company's trading platform for American-based customers, is still solvent.
In addition to that, when asked about what happened to the the $515 million that was suspiciously transferred from FTX after its bankruptcy filing, SBF gave a list of possibilities, including "improper access of assets."
"I've narrowed it down to like eight people. I don't know which one it was," he said, suggesting that it was either a former FTX employee or someone who installed malware on a former employee's computer.
The topic of SBF's donations to political parties was also brought up because since the launch of FTX in 2019, Bankman-Fried has openly supported Democratic candidates. In 2020, Bankman-Fried was one of the largest donors to the campaign of now-President Joe Biden, with $5,220,000 from FTX US and $6,242,800 from Alameda Research.
He explained, "All my Republican donations were dark," Bankman-Fried said, citing the Citizens United Supreme Court case. "In practice, no one can fathom the idea that someone actually gave dark money."
Bankman-Fried said he donated dark money, which refers to spending meant to influence political outcomes where the source of the money is not disclosed, to avoid public scrutiny and have reporters "freak the f*ck out if you donate to Republicans," calling them super liberal and saying he didn't want to have that fight. Bankman-Fried also said that he gave in the primaries because that is where there are good candidates versus bad candidates—unlike in the general election.
It is important to note that the interview has caused lots of rage and deception. Many voiced out their opinion on social media platforms saying, "SBF should be sitting in a jail right now, but instead he is giving an interview on the New York Times Dealbook summit. WTF is happening?"
Cory at Swan Bitcoin tweeted the following too: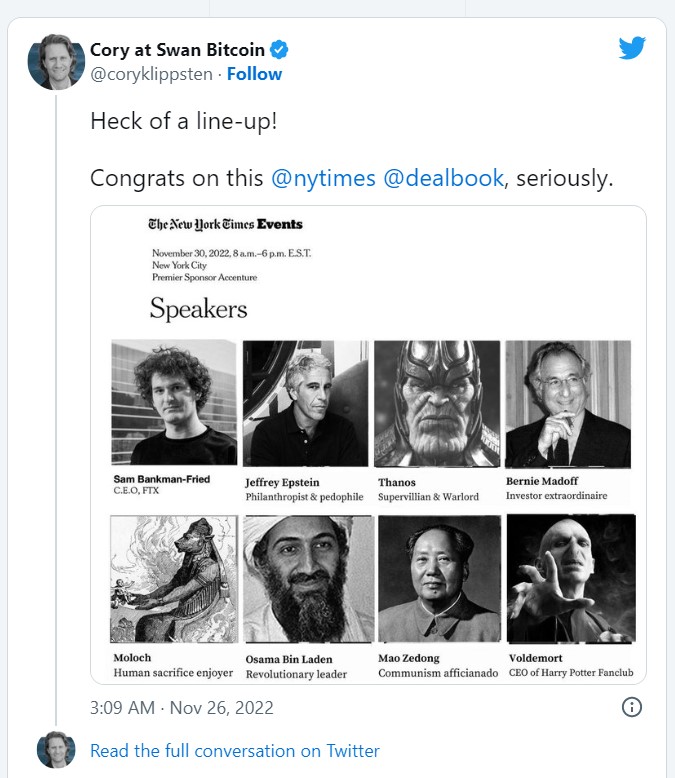 Knowing that people were reacting this way, Andrew asked SBF whether he is concerned about criminal liability. He truly had a hard time thinking of an answer, but he eventually said, "There's a time and a place for me to think about myself and my own future. I don't think this is it."