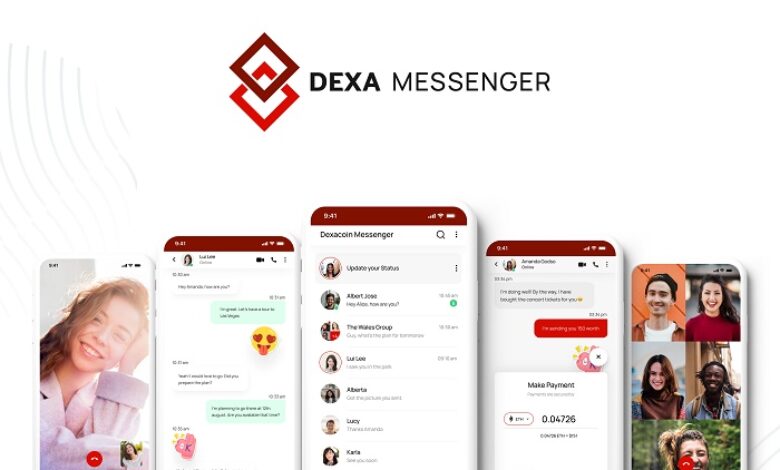 UAE DEXA Messenger, a social platform with an emphasis on privacy and digital payment capabilities aiming to compete with top players in the social messaging industry such as Telegram and Whatsapp, gears up for global launch. Users will be able to enjoy HD Voice & Video Calls, Intuitive chat experience, free crypto transfers and more!
With state of the art adoption of blockchain technology into its core system, the platform allows users to send crypto assets seamlessly, instantly and free. Having said that, the platform offers a solution to the surging gas and network fees which a lot of the crypto community is facing at this point. The platform also provides a hassle-free and a more convenient way of making digital transactions by a simple click of a button. Users can send crypto assets directly to their contacts without going through the hassle of typing or verifying the blockchain address of the person they intend to transfer their assets to.
$DEXA Messenger has been in the limelight during the year of 2021. In 2022, the team prepares to gear up for the official global launch of the platform.
The DEXA COIN team has also been making its mark in the local scene as they have participated at the historic Blockchain Economy last November 14–15,2021, being the first ever blockchain convention at a World EXPO.
The company was also acknowledged locally during the UAE's Golden Jubilee celebrations, being one of the proud UAE-based companies.
MAINSTREAM GOAL
DEXA COIN's mission is to provide users with a revolutionary social messaging experience via $DEXA Messenger, with full end-to-end encryption allowing privacy and security which will rival with key players such as Telegram and Whatsapp.
Unlike some existing social messaging platforms, we take pride in being privacy and security focused which means user information is stored securely and privately. Therefore, user information will not be monetized in any way, making the platform ad-free.
$DEXA Messenger incorporates blockchain technology making the platform an essential solution not just to an everyday person, but for the crypto community as well.
Here are the key functionalities and features that the app will house:
Connectivity with Privacy and Security.
Get socially connected without worrying about the security of your data with the use of end-to-end encryption and face biometrics.
P2P Payments.
In-chat, while being connected to your family and friends, users will be able to make digital payments INSTANT and FREE!
In-App Wallet.
The in-app wallet allow users to make deposits and withdrawal of their crypto assets.
Staking — Rewards and Discounts.
There are two types of staking with $DEXA Messenger. First type of staking is by earning rewards based on the amount of $DEXA tokens you lock. Another type of staking is by locking a certain amount of your $DEXA tokens over a period of time where you can get up to 60% discount on external transactions.
Go Live!
Go Live! is one of the key feature in the application wherein it will become a center stage for online content creators, podcasters, vloggers and those who want to be seen via the online community. While doing the livestream, the user sharing their contents will be incentivized by receiving tips via crypto assets.
Status Stories.
Users can share moments with flexibility over a period of time.
Integration with POS Payment & Crypto Terminal
This new year, pay in style with your crypto assets using DEXA Messenger application. Just simply tap your device onto the payment terminal with a partner network and you're all set.
METAVERSE ADOPTION!
Further enhancement of user experience on the platform will be done by allowing them to create virtual groups — ' The Metaverse' with different setting options including various selections of avatars & locations to choose from for these virtual groups. This will make $DEXA Messenger a platform that is unique with a cutting-edge and strong competitive advantage because there are no other social messaging platforms who are doing the same to date.