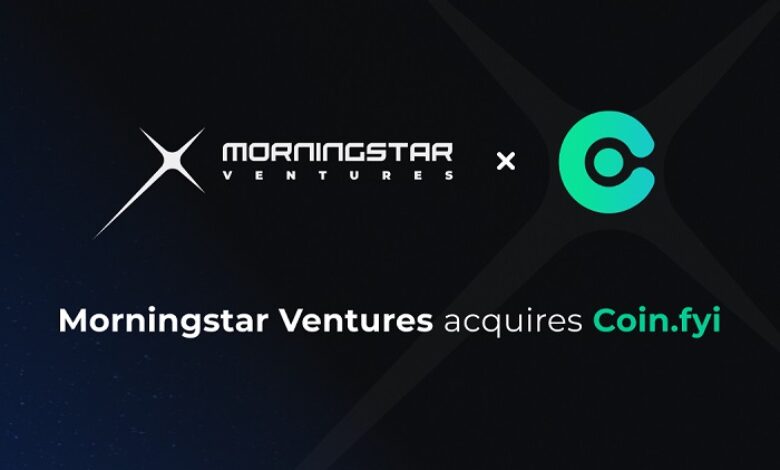 UAE Morningstar Ventures ,an investment firm focused on digital assets and blockchain technology, has acquired portfolio tracking app CoinFyi
Coin.fyi is a user-friendly portfolio-tracker and news-aggregator launched by a team of remote developers based in Eastern Europe and the Bay Area in 2017. With its simple UI and clear product positioning the application witnessed significant exposure throughout 2017–2018 with pure organic growth and zero marketing. Up to this day over 200'000 portfolios have been created through the application.
Despite the fact that the founders of the project decided to switch priorities over the last few years, in order to focus on other endeavours, to this day Coin.fyi still attracts over 30'000 unique visitors per month.
"You don't find products like Coin.fyi every day; the team built an easy-to-use tool that users enjoy and return to use on a regular basis and that in itself is already a great achievement. With Morningstar Ventures' acquisition of Coin.fyi, our endeavour is to turn the platform into more than just a portfolio tracker. The product perfectly fits into the ecosystem of products that we already own, as well those that we will be unveiling soon, so this is a really strategic acquisition for us" says Danilo S. Carlucci (Co-Founder and CIO at Morningstar Ventures).

"I have been looking for the right company to handover Coin.fyi to for a while as it's not easy to find people who are genuinely interested to continue what you started in the way you always imagined. I am very excited for our product to join the Morningstar Ventures' ecosystem — our users are in safe hands!" said the core developer at Coin.fyi.
Prior to this UAE MorningStar Ventures invested 15 million USD in Elrond Blockchain.