Events
Ignite Your Blockchain Journey: Unveiling the London Blockchain Conference 2023 Lineup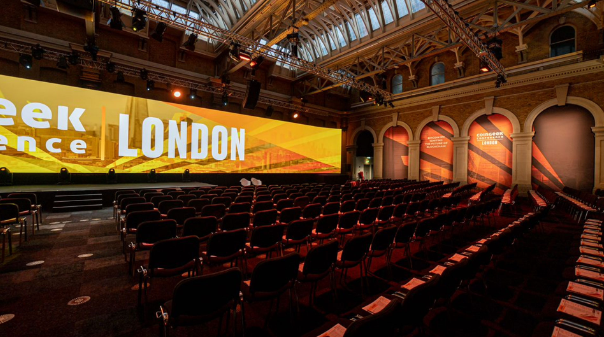 Mark your calendars because the blockchain event of the year is coming your way!
From May 31 to June 2, the prestigious Queen Elizabeth II Conference Centre will host the London Blockchain Conference 2023.
This event is the ultimate platform for bringing together enterprises and blockchain technology professionals. It's widely recognized as the most influential gathering in the industry, where brilliant minds come together to exchange ideas and make new connections.
The London Blockchain Conference presents an incredible opportunity for blockchain newbies and experts to immerse themselves in the potential of blockchain technology and lead the transition from Web2 to Web3.
So, as an attendee, what to expect from this premier blockchain conference?
Access to Global Innovations
You name it; from senior executives of global FinTech companies to application developers and infrastructure partners, the London Blockchain Conference creates a distinguished attendee base that turns the event into a hub of revolutionary ideas and transformative partnerships.
With these prominent companies and influential thought leaders in the blockchain domain under one roof, you can gain a substantial advantage over your competitors. This exceptional opportunity enables you to establish yourself at the forefront of industry innovation and progress.
By joining the event, you will gain privileged access to cutting-edge tools and invaluable expertise. As a member, you will play a pivotal role in driving the widespread adoption of blockchain technology and shaping the transformative future of Web3, both on a global scale and particularly within Europe.
Opportunities for Successful Networking
In addition to delving into a wide array of products and services that hold global significance, you'll also have the opportunity to connect with esteemed senior decision-makers, talented developers, and savvy investors within the blockchain community.
With a lineup of more than 100 speakers and an attendance of over 2,000 from over 100 countries, the London Blockchain Conference presents abundant prospects for cultivating valuable connections.
Engage in networking activities with notable individuals and seize the chance to forge new partnerships with startups, investors, and companies.
An Abundance of Valuable Insights and Practical Knowledge
The upcoming London Blockchain Conference will focus on key themes highlighting Web 3.0 and IPv6, blockchain regulation and government legislation, smart contracts and NFTs, stablecoins, CBDCs, and the power of nano-transactions.
Satisfy your intellectual curiosity as you participate in captivating keynote speeches, panels, and presentations that delve deep into the breakthroughs and innovations across industries utilizing blockchain technology.
This conference offers an impressive roster of over 100 speakers and a comprehensive program packed with 24 hours of sessions and panel discussions.
Catch renowned figures like:
●        Ben McKenzie – U.S. actor, author, and crypto commentator
●        Peter Schiff – Stockbroker, financial commentator, and broadcast personality
●        Andrei Kirilenko – Professor from the Cambridge Judge Business School
●        Dr. Craig Wright – Chief scientist from nChain
●        Jordan Kramsky – Solutions architect from Amazon Web Services
Attending this blockchain event is an exceptional platform to broaden your professional horizons and delve into the latest insights and trends in the market.
Additionally, you can enrich your expertise by earning CPE/CPD credits, solidifying this blockchain conference as an unrivaled opportunity to remain at the cutting edge of blockchain technology and industry advancements.
With new developments and resource access, valuable networking activities, and an illustrious lineup of keynote speeches and panel discussions, the London Blockchain Conference 2023 is the ideal event to gain a competitive advantage within your sector.
Join us and shape the future of businesses with blockchain technology.