Events
World Token Summit: Spearheading Dubai's Foray to Become a Global Hub for Crypto and Blockchain Activity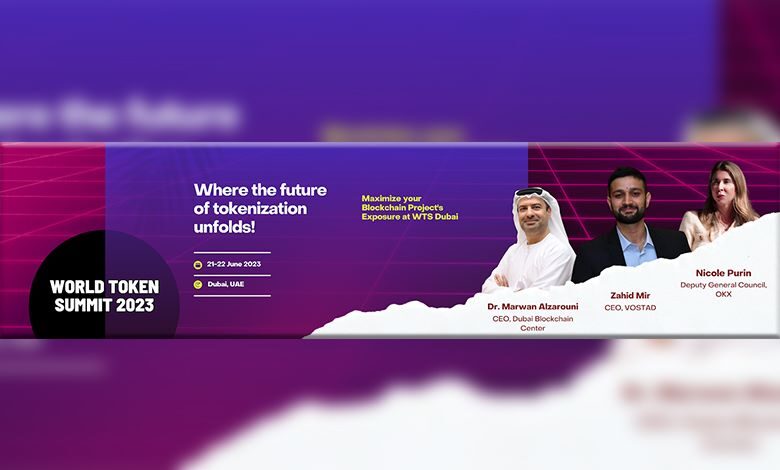 The crypto market has shown signs of slow recovery signaling the end of the crypto winter, as prices have trended higher in 2023.
With inflation cooling off, and a recession looking more likely with a banking crisis in the west, investors are seeking refuge in crypto.
Dubai has been at the forefront of the reemergence of the crypto market, and has considerably established itself as the most favored hub for the crypto and blockchain industry.

The World Token Summit is a one-of-a-kind crypto industry focused event, showcasing the unique
perspectives and vast opportunities in the blockchain and crypto ecosystem, and facilitating the
entire global crypto industry to congregate in Dubai.
The event is hosted by Vostad and is positioned to bring together founders, emerging crypto exchanges, crypto projects, blockchain enthusiasts, investors, entrepreneurs and industry leaders to explore new projects and investment opportunities.
What's happening at the World Token Summit?

This year's event is broadly designed to touch upon key elements of the crypto industry as a whole and
regional perspectives from a regulatory standpoint.
The attendees will also be privy to interactive and thought-provoking discussions about the emerging innovations and investment opportunities in the space. The two-day event will focus on the following areas of importance:
Tokenization & the potential of democratizing investment opportunities
Dubai's emerging crypto industry
Navigating the crypto winter
Discovering Web3 opportunities in the Middle East
Investing in NFTs
Building Blockchain ecosystems for growth
Token Economics 2023 & beyond
The event will be held on 21-22 June 2023 in Dubai. You can now apply online here to reserve your exhibition space at this exclusive event.