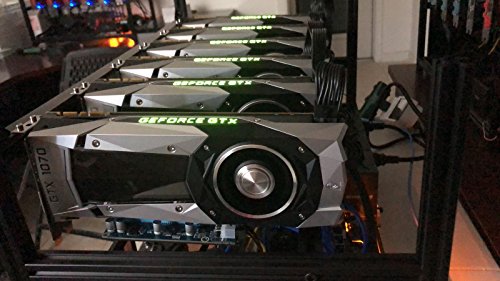 When Binance
announced
last month that Lebanese crypto holders could trade on Binance exchange using their driver license as ID, many asked the question how did the lebanese get crypto in the first place let alone be able to trade, given the current banking situation and the inability to purchase crypto using credit cards.
UNLOCK researched and found that Lebanon is bursting with crypto mining shops that are selling crypto mining equipment. For example on such company called crypto mining Lebanon ( cryptomininglb.com) offers various crypto mining equipment such as GPU 3090, 3080, 3070, 3060, 2060 which range in price between 800 USD up to 3300 depending on size. Others like Ascis Lebanon also sells new or second hand ASICs with training and even pages such as Lebanese crypto news showcase prices of mining equipment.
For example if someone wants to mine for 8GPU the premium price of a mining servier is 1100, 10 GPU 1300 USD etc.. When UNLOCK spoke to these shops we asked how much electricity would be needed for these mining equipment. We were told depending on size you would need anywhere between 2.5 Amper to 10 Amper. Before the Lebanese crisis and even during the crisis, the price of electricity was relatively low compared to other countries globally, and especially with the depreciation of Lebanese Lira. So for example the average electricity bill from the government cost a maximum of 200,000 which today is 10 USD, and the generator bill used to cost a maximum of 300,000 which is even less than 15 USD, however as the Lebanese government lifts subsidies on gasoline and fuel, and as the state owned electriity cmpany provides less hours of electricity the cost of electricity from generators is going up.
Even more alarming is the lack of fuel for these generators causing outages. In a recent article in
Arab News
, it discusses the impact of Lebanese mining given the electricity crisis. According to the article, Lebanese crypto miners are in trouble. Lebanon has plunged into near total darkness because of its recent electricity shortage crisis, leaving mining machines suspended mid-way in their operations and their owners writhing over their financial losses.
The article explains, that in the last two years, a growing number of Lebanese youths have turned to trading and mining cryptocurrency in a desperate attempt to gain financial freedom and secure the much-needed remittances of USD cash. This movement was spurred by distrust of the Lebanese banking sector, which has all but swallowed up people's life savings. Today, the electricity crisis constitutes a thorny problem for crypto miners who have invested a fortune in buying mining machines that were supposed to function 24/7, mining as many cryptocurrencies as possible.
In a statement made to Arab News "Before the electricity crisis, each GPU (Graphics Processing Unit) used to mine $10-$20 worth of bitcoin every four hours," 34-year-old electrician Alaa Ayash, who is the co-owner of a gaming-turned-mining lounge in Mar Elias, Beirut, Now they mine about $1-$5, almost a quarter of what they used to."
So how are crypto miners dealing with energy crisis. According to the article Their first option is to rely on generators that run on diesel. These generators are effective in supplying the GPUs with electricity- until the diesel runs out. "One gallon of diesel used to cost around 30,000 Lebanese pounds," said Ali Mortada, a Syrian janitor who is responsible for securing diesel to the building he works for. "Now it costs somewhere between 100,000 pounds and 150,000 pounds in the black market, if not more."
When generators turn off, there are two substitutes: UPS (Uninterruptible Power Supply) and computer batteries. The former device allows a computer to keep running for a short time when its primary power source is lost while providing protection from power surges. Meanwhile the batteries supply energy for two-to-three hours. Both devices can be purchased from local and international manufacturers (mainly China), but because of skyrocketing demand on behalf of crypto miners and dealers, they are constantly in short supply.
An average miner in Lebanon can still make anywhere bettern 1-5 USD per hour, ( now worth 100,000 L.L) and given the economic crisis and need for hard currency, crypto mining most probably will continue to flourish as a source of income and though the cost might be increasing, and while Bitcoin price has seen a decline, the profits from crypto mining in Lebanon outweigh the costs. Simple put in one day a crypto miner can make anywhere between 50 to 100 USD, so even if they need to pay 1 million Lebanese Lira per month for generator and another 200,000 L.L for electricity from government they are still making a profit, because 1.5 million Lebanese Lira is currently equivalent to 75 USD.
As long as their is some form of electricity, crypto mining in Lebanon will continue to be worthwile.