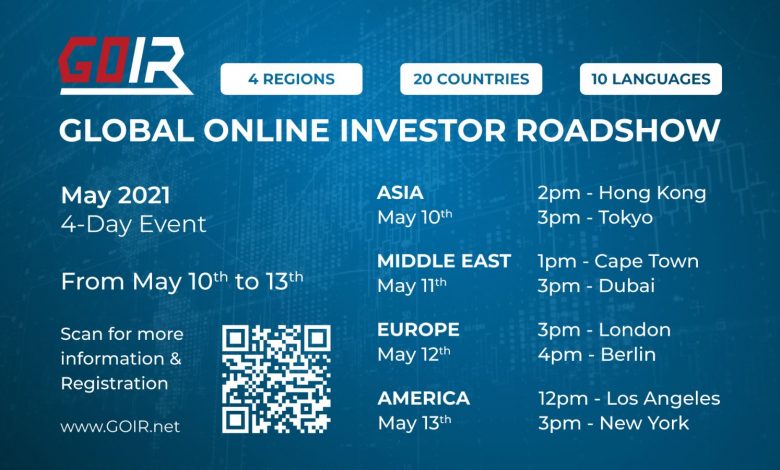 Global Online Investor Roadshow (GOIR) is proud to present a special edition of investment series with the theme of "STO Special Series" from 10th – 13th May 2021, with four (4) online sessions covering (4) regions and multiple countries. For the Middle East GOIR will be held on May 11th.
GOIR is the next generation, institutional scale, online private placement platform for private equity, alternative investment, and digital asset opportunities. It is the biggest online investor roadshow of its kind with the broadest reach, spanning across thirty (30) countries. The main objective of GOIR is to allow its carefully-curated investor community gain priority access to exclusive global private investment opportunities on special favourable terms.
At the upcoming May GOIR event, keynote speakers will include Mr. Ian Fong, Director of Propine, Ms. Nikoletta Csanyi, Head of Digital of Crypto Valley, Ms. Hsin-Ju Chuang, Founder of DystopiaLabs, and presenting projects will include Rich Glory Coin, Libra Project and The Tokenizer.
Rich Glory Coin is a 3-year tokenized secured debt – fully collateralized by production contracts on underlying oil field, with a fixed coupon payable quarterly and additional potential upside return (payable at maturity) calculated based on appreciation of BRENT crude oil spot price between the drawdown date and the maturity date of the debt.
Libra Project
is a family of three companies whose mission is to enable investors to demonstrably impact the lives of millions worldwide by investing in the development of renewable energy projects through a secure, transparent, and auditable software platform that provides real-time updates on financial performance and impact data reporting to project owners, operators and regulators.
The Tokenizer is the leading global media and data platform for the upcoming security token industry and awarded Best Digital Asset Media 2020. The Tokenizer's mission is to deliver critical data and software solutions as SAAS services, high-quality news, information, and highly scalable analyses, overview and insight for anything related to tokenization and the emerging industry of security tokens. The ambition for The Tokenizer is to be the preferred global go-to information platform for anything related to the coming revolution of tokenization and a token-driven economy.
Currently, over 20 countries have a legal framework around digitized securities and security tokens. STO is becoming fully compliant and incorporates very unique corporate finance tools for traditional enterprises. According to a survey from the World Economic Forum, 10% of the world's GDP will be tokenized by 2027 — with an estimated market capitalization of US$24 trillion. Distributed Ledger Technology presents an opportunity to transform the traditional movement and transaction of assets. Significant growth in the number of high-quality STO projects and global expansion of investor communities is expected, as the adaptation of this new corporate finance model gains popularity globally.