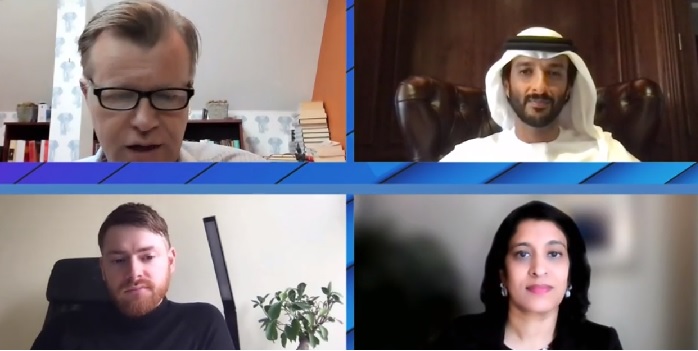 UAE to put forward a testing policy for government to use tokenization of assets in renewable energy, infrastructure, power plants, and solar energy
During the World Economic Forum Global Technology governance Summit panel on the " Arrival of Token economy from Art to real-estate, the UAE Minister of Economy Abdulla Bin Touq Al Marri touched upon the importance of tokenization for growing the UAE economy and how it will assist in attracting investors for SMEs ( Small and Medium Sized Businesses) in the UAE, as well as tokenizing the governmental energy infrastructure for high capital intensive projects.
According to Al Marri, "The UAE is interested in this space because we want to double our economy in the next 10 years, which means we have to have a GDP of 7 percent annually, digital tokenization complements decentralization of capital, and a digital economy for financial technology is something the UAE's vision encompasses."
He discusses the fractionalization of assets and how numerous entities in the UAE who have limited access to diverse means of funding and tokenization can benefit and as such the UAE is key to opening these doors for investors. He states that the Ministry of Economy alongside the UAE 4th Industrial Revolution Center and DIFC ( Dubai International Finance Center) alongside DFSA ( Dubai Financial Services Authority) are working together to use tokenization platform to provide SMEs, with debt and equity financing which will advance transparency.
He also touches upon the recent tokenization of asset regulation that is now into gear and creating a more open economy for tokenization. When asked about pre token economies and its regulations versus the new fractional token economy and how governments are dealing with this. Al Marri states, "Government are very good at regulation and sometimes over regulate. We face two challenges lack of harmonization of regulations across jurisdictions which will undermine interoperability limiting token creation and trading, and governance issues for example what happens if a tokenized art is stolen, or who pays for maintenance and rent fees for fractional tokenized apartments."
He adds that these issues are being tackled by Dubai Future Foundation, the 4thIR center, and UAE Securities and Commodities Authority which recently came out with regulations on digital assets, crypto and crypto exchanges.
Al Marri also talked about the testing of tokenization of renewable energy sources, power plants, government infrastructure in the energy sector in the UAE. He stated, "Indeed we are looking at it, we have a huge infrastructure in renewable energy, and one of the tokenization use cases for assets could happen on that. These digital assets can be traded on exchanges, using fractionally tokenized assets of renewable energy projects. One of the cases I am trying to put forward for government is to use tokenization of assets including those for renewable energy, infrastructure, power plants, and solar energy, things we can actually test and use in the UAE, including government owned infrastructure that can be tokenized. We have put forward a policy of testing it in the UAE."
He adds, "We are open to disruptive technologies and tokenized assets that are capital heavy. We are looking at how government can use this and play it in a favorable opportunity rather than over regulate it. We are careful and sensitive on how we test these things, assets in renewables."
In conclusion, governance of tokenization regulation, we welcome the scaling of crypto and blockchain assets and welcome all countries neighbouring and others. We work to help scale digital assets. We are very welcoming play together with other governments and this is important.