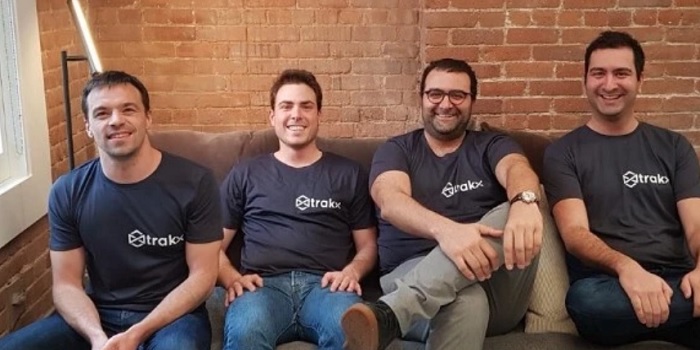 Headquartered in France, Trakx, a secure digital assets investment platform built on Blockchain, which allows institutional investors to choose from an array of digital asset instruments, is scoping the UAE and GCC region as it eyes opening an office in the region.
UNLOCK spoke with Laurent Barocas, Chief Client officer and product officer, as well as Lionel Rebibo, Co-Founder and CEO of Trakx to learn more about their product offerings and upcoming plans. As Lionel explained, "Trakx offers crypto investment strategies for institutional and professional investors by providing sophisticated digital asset instruments. These digital assets are packaged as indexes into baskets; each index product can then be exchanged onthe Trakx platform or through intermediaries"
TrakX Offering
The index thematic that Trakx offers today includes centralized exchanges, decentralized exchanges, lending platforms, Top 10 crypto assets, Top 10 Ethereum projects, Top 10 DeFi, and Bitcoin/Ether at 50/50. Also, Trakx proposes some "smart investing" strategies such as the Bitcoin Volatility Control, Inflation Hedge and Pure Diversifier strategies. These digital asset index products available on the platform are fully compliant with the needed custody solutions and liquidity requirements. Having indices in baskets, spreads out the risk across each portfolio.
According to Laurent Barocas," Our digital index products are tradable on our website, WebSocket and REST API, with top notch matching engine, in a regulated secure manner."
Trakx is currently under regulatory review from The Autorité des Marchés Financiers (AMF) which regulates the French financial market place, its participants and the investment products distributed via the markets. The AMF also ensures that investors are properly informed and is a driving force behind regulatory change at both European and international levels. As an independent public authority, it has regulatory powers and a substantial level of financial and managerial independence.
Given that Trakx is still under regulatory approval, Lionel explains, "Our platform is currently not open to all public. We have only provided access to institutional clients that we know for now, For once we are registered with the AMF,and then we will be able to open it to the public."
Built on Ethereum Blockchain and backed by Consensys
Trakx is backed by Ethereum Consensys organization, as part of Tachyon III the third cohort accelerator program based in New York. Tachyon III supports companies enabling new financial products, platforms and infrastructure with Web3 and digital asset technologies. Lionel states, "At Trakx, we are bringing new allocation and diversification offerings to institutional investors by providing sophisticated digital asset investment strategies with the compliance, custody, and liquidity needed for large investors. Passive investment strategies have generally outperformed actively-managed mutual funds due to the significantly higher expense ratio from actively managed funds. Although digital assets are a relatively new asset class, the industry acknowledges the need for passive portfolio management products."
When it comes to AML (Anti Money Laundering) and KYC (Know your Customer), Laurent explains, "We outsource AML KYC individual documents for checking passport, proof of residency from the onset and have our compliance officers, following strict guidance from the AMF (Autorité des Marchés Financiers), for AML and KYC of corporates."
What Investors want
According to Lionel the first entry point for most institutional investors has been Bitcoin through the CMEs. As he explains," Trading futures through the CME is the easiest way for institutional investors to get exposed to Bitcoin as it easily plugs to their back office. Then as they get more comfortable, they start looking into alternative options and indices are probably one of their preferred way to increase their exposure to digital assets while diversifying their portfolios. For instance, we have noticed an increased interest in DeFi (Decentralised Finance) and lending indices over the past three to four months while a year ago there was no interest at all."
Trakx is not a financial advisory service but a platform that offers what the founders believe potential clients might be interested in. As Lionel explains, "We built the infrastructure that would make it easyto create any instrument on the back of clients' demands and we are not here to suggest or advise but rather provide the access to the infrastructure."
Trakx are seeing more and more interest from family offices, high net worth individuals, and hedge funds and by providing the proper solution it only become a matter of time before they come on board.
Trakx and its Competitors
The only serious competition today is coming from traditional ETP (Exchange-traded products) which are types of securities that track underlying securities, an index, or other financial instruments. Grayscale for example and others offer basic digital asset instruments like Bitcoin but as Lionel says," their business models are different, Trakx is the only one offering 24/7 sophisticated tradable tokenized indexes on a crypto platform. While you may find similar exposure in the top 10 crypto in one fund or ETP for example you wouldn't find most of the value added products we offer anywhere else."
Trakx plugs into various liquidity providers making their instruments highly liquid which is the biggest challenge in the space.
Trakx in GCC and MENA region
The Trakx team is in the UAE getting a feel for the market in the region. As Laurent explains, "The market here is still nascent and just starting to get structured with digital asset exchange players in the midst of receiving licenses. We also see more family offices and institutions getting involved in crypto quietly. It is because we are at the very beginning we see the possibilities ahead."
Today alternative investments such as digital assets including DeFi are producing better returns than traditional market indices. As Lionel explains, "the good diversification stemming from the low correlation to other traditional asset classes, combined with the seemingly very attractive risk-reward offered by some digital assetsresonates with investorsglobally and the same is true in the region. The mixtures of digital assets with traditional assets in investment portfolios bring a better risk-reward."
As a final remark, Lionel states, "We might soon open an office in UAE, as we want to be perceived as a credible and serious player in the market and as such we have to be on the ground in the near term."