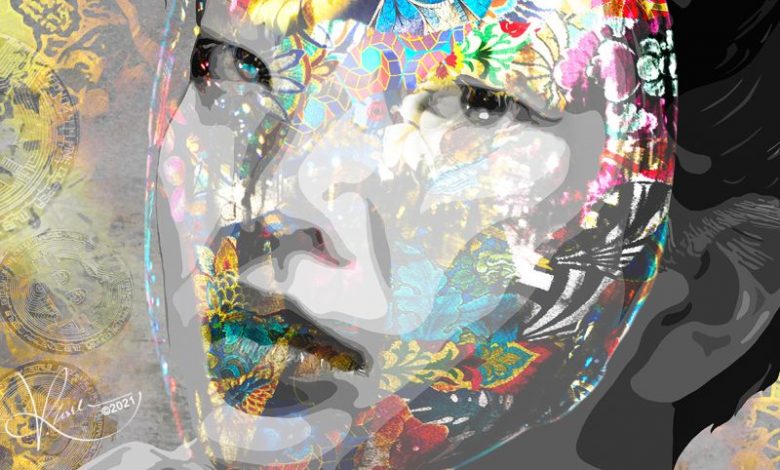 Lebanse artist Kristel Bechara, will soon become the first female artist from the UAE and Middle East to launch a painting which will only be available as a non-fungible token (NFT).
Essentially NFTs transform digital works of art and other collectibles into unique verifiable assets that can be traded through blockchain technology. The binary piece by the world-renowned artist, of the creator removing the masking shield, is called Beauty in DeFi.
According to an article in Arabian Business, Bechara stated "As someone who has been creating digital art for a number of years, I wanted to participate in this movement as soon as I learned about it. I am delighted to see the recognition that digital art is finally receiving. For years I have had to explain to people that art produced digitally is not any way inferior to artisanal traditional art and both should be appreciated in their own way. As an artist who created both traditional and digital art, I can attest that the authority and creative process to create each piece is the same, yet one is developed and exhibited using modern tools."
Lebanese artist, Bechara is said to be releasing a series of limited-edition paintings (25 unique limited editions) that can be bought with a redeemable NFT on OpenSea, the world's largest digital marketplace for crypto collectibles and NFTs. The digital art from this collection will also be redeemable for a physical representation mailed directly to the collector.
NFTs have been thrust into the spotlight following the sale of a collage of images by digital artist Beeple for $69.3 million last week at Christie's auction house.
And Bechara believed NFTs are going to have a big say in the future of the art world. She said: "The fact that artists will finally receive royalties every time their artwork changes hands, will have a huge impact on the industry. Just like musicians and singers are able to perpetually earn revenue from their productions, artists too can benefit for a longer period. This will support more artists in the future and create a clearer platform for success."