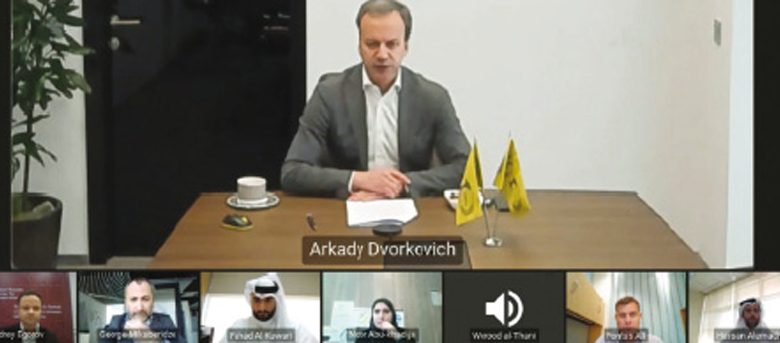 The Qatar Financial Centre (QFC) in collaboration with Qatari-Russian Center for Cooperation (QRCC) organized a webinar on "Emerging Opportunities in Digital: Qatar & Russia". The event discussed how to succeed in Qatari Digital Market and the kind of companies and technologies, Qatar is looking for and how Russian partners can contribute in it. The event introduced opportunities in the digital sector in the Qatari market to large Russian corporations, SMEs and start-ups geared towards innovative solutions and emerging technologies.
Arkady Dvorkovich, Chairman, Skolkovo Foundation, said "We want Qatari partners to locate, open and develop energy centers, communications and digital medicine. We are the leading center in research of 5G and research related to the next generation of communication technology – 6G technology. We have biggest and leading Russian center in quantum technology and are collaborating with leading teams from other parts of the world like United States and China."
Jahongirbek Burhonov (pictured), Vice President, Business Development, QFC said, "The QFC is one of the enablers of attracting foreign investment in Qatar. Currently Qatar's digital spending is estimated to be around $2.3bn and by 2023 this is expected to grow around 1.4 times to become $3.2bn opportunity. Qatar government is actively pursuing opportunities in sectors like Artificial Intelligence (AI), Blockchain, cyber security, cloud, data especially the e-sector, e-demand industries, banking, financial industry, defense industry, critical infrastructure industry, education, medical, and health."
"QFC is one of the leading financial and business centers in the region. Companies can do business without any local partner as QFC can license all types of professional services like IT consultancy, human resources, marketing, engineering, architecture, accounting," he added.
Noor Nedal Abu Khadija, Tasmu Digital Valley Program Acting Lead, MoTC/TASMU said, "One of the programs is Tasmu Smart Nation under MoTC which is Qatar's smart city programme. It focuses on technology and innovation to improve the lives of citizens, diversify the economy and for stable economic development. It focuses on transport, healthcare, sports, and environment sectors."
"We are also looking for digital solutions to deliver with emerging technology such as Blockchain, AI, analytics, IoT. There is also a huge demand for e-commerce specially with the pandemic" she added. She noted, "Tasmu Digital Valley is attracting and supporting digital and tech companies either international or local. It has created services across businesses setups that are IT funding network or even entrepreneurship and offers them to companies.
Hassan Ismail Alemadi, Assistant Director Government Accounts, Ooredoo said, "We focus on different aspects and sectors with Ooredoo on the consumer and business side like new startups and innovation companies to participate with Ooredoo our day-to-day business in Qatar. To match the fast pace and dynamic industry in Qatar we are looking for partners that support Ooredoo in boosting the telecommunication and ICT services in Qatar. During the past couple of years, we have seen shift in demand, the growth in ICT services in Qatar in double digits at a very fast pace.
Ooredoo is a global provider for communication, information and entertainment products and services serving over 120 million customers with an annual revenue excess of $8 billion per annum. To support businesses, we provide wireless and wire line communication services, fibre and 5G, security and network services, local and long-distance voice services.
Fahad Al Kuwari, Head of Market Intelligence, QFZA said, "Economic diversification began in Qatar around mid-90s and we have attracted knowledge through Qatar Foundation (QF) and Carnegie Mellon in Qatar (CMU-Q) has the best robotics program in the world. Free Zone Authority tries to bring in companies to partner with these companies and create a win-win situation with a goal of sustainability towards the economy."