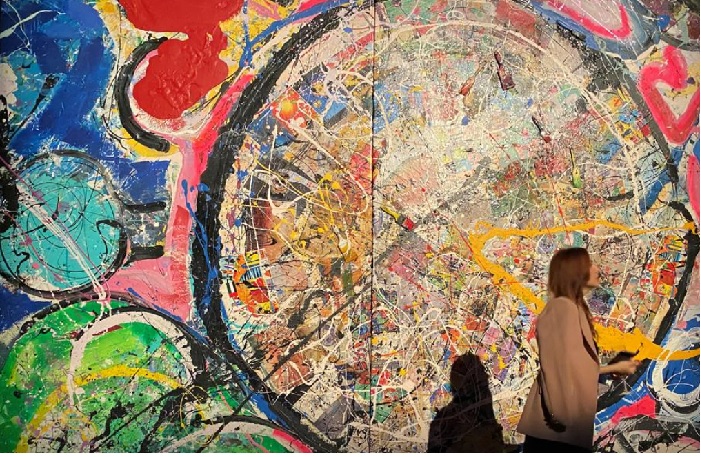 The second steps after the purchase of Jafri's Journey of Humanity artwork could be transforming it into a Non-fungible token on the blockchain so that everyone can have a piece of the Journey of Humanity.
Almost everyone has read about the artwork, " The Journey of Humanity" the world's largest canvas painting that was sold in Dubai UAE for $62 million, the second most expensive painting sold by auction by a living artist. The British artist Sacha Jafri British the artist behind the canvas, which was split into 70 lots for sale, sold the painting to Andre Abdoune, a French national living in Dubai for 62 million USD. Abdoune is known to have a cryptocurrency business as noted in reuters piece.
Jafri's aim had been to raise $30 million for charities by auctioning the 1,800 square metres of canvas in sections, but Abdoune put in a bid for the entire work. During the event Abdoune said he is planning a "second step" for the painting, hoping to raise even more money for charity, without giving further details.
This was again reiterated by a crypto blockchain entrepeneur Ralf Glabischnig.
Ralf Glabischnig Founder of CV VC Labs, which recently partnered with DMCC to create Crypto Valley in the UAE, and one of the attendees at the event posted on LinkedIN stating, " What an evening, the first result is 62 million USD for children to be split between Dubai Cares, UNICEF, UNESCO, Global Gift Foundation, as well as the Ministry of Tolerance – UAE and the Ministry of Education – UAE.
He adds that he and a team which includes names such as Hubertus Thonhauser of Tezos Foundation, Zachary Cefaratti, Founder of UAE Dalma Capital, Andre Abdoune, Niko Kiporous of 4ARTechnologies, Marco Bumbacher of Inacta, as well as members of DMCC ( Dubai Multi Commodities Center) Crypto Center and CV Labs, have been part of Jafri's eight month journey. He states, " This is the beginning of the "Journey of Humanity" and we are honored and thrilled to work on the next steps, so stay tuned."
Looking at the team mentioned one can only speculate that their expertise in tokenization, blockchain and crypto most probably will mean the digitization of this art piece on a blockchain as an NFT ( Non-Fungible Token) and while this might not be the first artwork in the world or maybe not even the first in the UAE, it definately be the first within this price range and for a charity. This is now realistic especially after DMCC and the Securities and Commodities Authority in UAE have partnered to develop onshore crypto regulatory framework allowing businesses to launch crypto busineses.
We will just have to stay tuned and see if the Jafri's painting will be the most expensive NFT painting to be sold by a living artist.