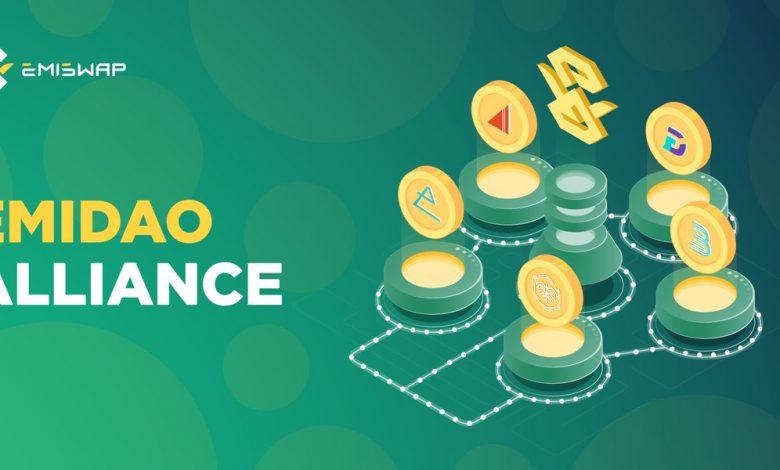 EmiDAO an autonomous DAO designed ecosystem with advancements in DeFi has launched EmiSwap. Both EmiDAO and EmiSwap seem to be closely affiliated with UAE operational, Emirex Crypto Exchange which has also joined EmiDAO as an exchange to provide liquidity to EmiSwap. With the ESW governance token at the heart of the ecosystem, EmiDAO enables 100% of projects' profit distribution among ESW token holders – both venture investors, funds, companies, and the general public who are interested in forming the future of decentralized finance.
All the members of the EmiDAO alliance get exposed to the success of the ecosystem projects, EmiSwap at the moment, and some new ones in the future (the EmiDAO members vote upon what initiatives to launch). That means the price of the ESW token is less important than the performance of the EmiDAO products themselves. Namely, all the investors who've already purchased ESW receive 0.05% from each operation on EmiSwap, which means their profit correlates with the DEX trading volumes.
As such EmiDAO recently announced strategic alliance partnerships to the EmiDAO ecosystem. One of the first is Alpha Sigma Capital based out of the USA which has already invested in Emirex Crypto asset exchange in 2020. Alpha Sigma Capital is an investment fund focused on emerging blockchain companies that are successfully building their user-base, demonstrating real-world uses for their decentralized ecosystems, and moving blockchain technology towards mass-adoption. ASC is focused on companies leveraging blockchain technology to provide value-add in areas such as fintech, AI, supply chain, and healthcare. According to Enzo Villani, CEO of Alpha Sigma Capital, "The EmiDAO ecosystem is a great entry point for companies that are interested in forming the vision of tomorrow's DeFi industry in synergy with other market participants. Technologies, transparency, focus on users and cooperation are the fundamentals of this ecosystem, and we're proud to be a part of it."
Other exchanges have also joined the EmiDAO ecosystem to provide liquidity to the EmiSwap protocols and list the token. These include DigiFinex and Bitmart. DigiFinex is one of the world's top cryptocurrency exchanges by trading volume and liquidity. The exchange has a $2,1 billion daily trading volume and 200+ cryptocurrencies listed. Moreover, it is trusted by 4 million users globally. As Daffy Liu, marketing Director at DigiFinex states, "We are pleased to be the partner of EmDAO Alliance. In the upcoming future, both parties will collaborate in the realm of communities, public release, liquidity providers as well as the ecosystem. DigiFinex aims to establish a mutually beneficial partnership with EmiDAO".
BitMart's with 300 cryptocurrencies listed and funded by Fenbushi Capital is one of the first and most active blockchain-focused venture capital firm in Asia. "BitMart is pleased to join EmiDAO Alliance to boost prospective development of the ecosystem. We are super excited to be a part of this game-changing move to help form the future of decentralized finance." said Sheldon Xia, Founder and CEO at BitMart
"EmiDAO is actually the first ecosystem that emphasized the importance of self-governed models in decentralized finances. EmiSwap is the first decentralized financial project that distributes all its revenue among stakeholders. That's the way it should work in DeFi". states Kirill Mishanin Chief Sales Officer at Emirex