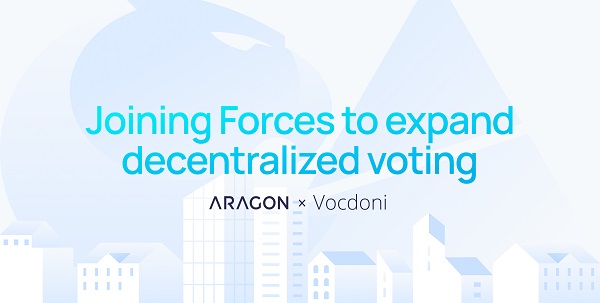 Aragon, the platform for building and running decentralized autonomous organizations (DAOs), has acquired Dvote Labs Oü, the company behind the Vocdoni protocol, which aims to build the most secure and anonymous voting system using decentralized technologies. Vocdoni offers governance solutions based on a universally verifiable, private and scalable voting, tailored to organizations from both public and private market including municipalities, public administrations, companies, and membership associations.
Joe Charlesworth, Executive Director of the Aragon Association, said, "We were blown away by Vocdoni's technology. We believe that leveraging Aragon's brand, treasury and domain expertise will help push forward adoption of decentralized governance. Through the acquisition of Dvote Labs OÜ, Aragon will be at the forefront in the provision of secure and decentralised, secure governance technology to municipal governments, companies and organisations around the world in the same way it already is for DAOs."
From today, Aragon will integrate the 11 members of Dvote Labs OÜ to a new company controlled by both Aragon and Vocdoni team. While the development roadmap of Vocdoni's technology and Vocdoni Platform remain in place, both projects will work on leveraging the potential of bringing the two technologies together. In mid and long term this can be translated into a bridge between formal organizations and DAOs, powered by a complete governance stack and a universally verifiable voting protocol. All Vocdoni's design and software will be kept as free software.
Vocdoni's technology leverages zkSnarks to enable fully anonymous voting, IPFS and libp2p for anti-censorship data availability and protocol communication, and a layer two, specific voting purpose blockchain named Vochain for accounting ballots transparently. Vocdoni's platform previously hosted the largest voting process ever held entirely on a public blockchain for Òmnium Cultural, the largest cultural association in Europe with a census of more than 180,000 members.
Pau Escrich, CTO of Vocdoni, said, "We couldn't be more excited to join forces with Aragon to take decentralized governance to the masses. We live in the age of quantum computing and distributed ledger systems, but we still use the same systems for governance as the ancient greeks. Now, for the first time in human history, anybody can create an election in a permissionless way, and anybody can vote and verify the integrity of the voting process from their smartphone or laptop without needing to trust any central party. The implications of this are hard to imagine. Voting should be a universal right, and the way to get there is by using censorship-resistant and open source technology."
The Vocdoni Team will continue working autonomously as the main contributors to Vocdoni Protocol and offering governance services to formal institutions such as associations, cooperatives or city councils. Gaining adoption within institutions will be a key step in eventually converting them to fully decentralized DAOs, as the technology and legality around them matures.
Joe Charlesworth, Executive Director of the Aragon Association, concluded, "Vocdoni fully aligns with the Aragon Manifesto and our common vision to improve governance. Both Aragon and Vocdoni projects are aligned in their visions of how governance of the 21st century has to be built and by joining forces we are envisioning a way to expand the frontiers of democracy through the development of common good infrastructure and open source technologies under a new company."