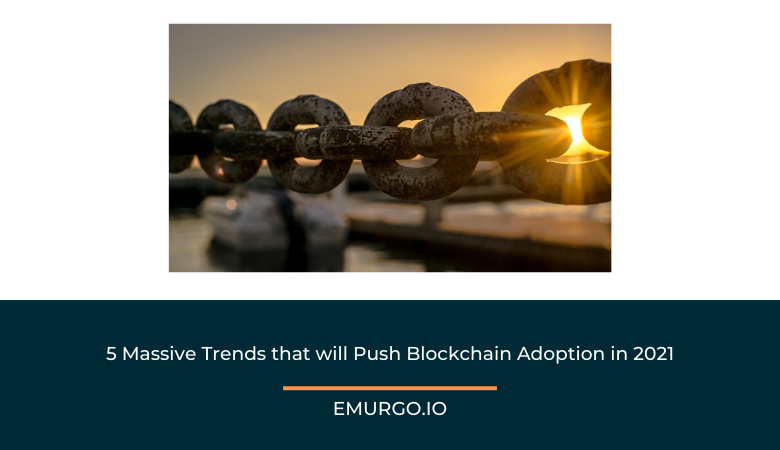 In a recent article published by Emurgo the global blockchain solutions company a founding entity of Cardano, they believe Enterprise blockchain adoption is poised to gain even more awareness and recognition in 2021, offering an ideal product-market fit. More and more enterprises are realizing the advantages blockchain solutions offer for supply chain management, food traceability, IoT integration, sustainability, and fair trade, to name a few. With its efficient data security and storage capabilities, and customizable transparency features, blockchain technology provides enterprises a more fair and cost-effective way to manage data that includes many stakeholders.
From years prior starting with proof-of-concepts, blockchain adoption has already been happening at the enterprise level and is only meant to accelerate in the coming months and years.
Supply chain management is an obvious area for enterprise blockchain adoption due to its sometimes opaque nature involving several stakeholders located in different parts of the world and other administrative factors.
Right now, supply chains are dispersed and poorly integrated due to the reasons mentioned above and also because of the different legacy data systems that are in use in dispersed locations. Because there is a trust deficit, a single link in the chain cannot necessarily entirely rely on the next link. A supplier cannot necessarily trust the logistic systems of the distributor, and a retailer also cannot just rely on the word of the previous two, etc. Especially, when these stakeholders do not really have any credible history with one another and instead are incentivized to maintain data opaqueness.
Every link in the supply chain has to keep track of items using their own systems in some industries. The result is unnecessary redundancies and conflicting records. Now, blockchain solutions offer decentralized data management systems where no single node or system has total control over the network. As such, record-keeping by multiple parties with competing interests is made possible while also maximizing efficiency.
Blockchain-based solutions for supply chain management has been one of the primary use cases EMURGO has been developing, starting with the integration of EMURGO Traceability Solution with real enterprises such as Blue Korintji Coffee, Ahava Cosmetics, and Angel Bakeries, to name a few enterprises. Supply chains is among the most promising fields for blockchain adoption to have a successful effect on business efficiency and effectiveness compared to existing systems.
Hand in hand with our previous example, food traceability is a subset of supply chain management, but one with far-reaching consequences. As humans, much of our health depends on the quality of the food we ingest. Despite its importance, it is an area of the economy where innovation has been slow. It is a complex problem with competing interests between links in the supply chain that prevent transparent information sharing. For example, if fish were not properly refrigerated, or illegal pesticides were used on a crop, hiding this information from the rest of the parties in a given supply chain would be in the interest of that particular stakeholder.
Blockchain adoption prevents these sorts of incidents and transforms a stagnant industry. Its decentralized nature permits information sharing without a central point capable of monopolizing it to cater to its own interests. The introduction of blockchain solutions would allow all parties in a chain to know about the origin and quality of food produce and end information asymmetry.
These changes brought by blockchain solutions would benefit all parties because the honest actors that work to ensure their products are correctly produced, maintained, and stored, would thereby stand out from those cutting corners, in a transparent and open blockchain system.
An example is EMURGO's Traceability Solution that is deployed in the local Indonesian coffee industry. By partnering with Blue Korintji Coffee, a local coffee producer, the entire supply chain of its coffee is openly recorded and verified through EMURGO's Traceability Solution. This brings valuable trust and credibility to all stakeholders in the coffee supply chain from Blue Korintji to its end consumers.
As the Internet has become widespread and easier to access than ever before, more and more devices are starting to become connected to it. The Internet of Things has the potential to revolutionize many industries by using affordable, interconnected devices that are able to monitor production and distribution in real-time, cheaply and efficiently.
For IoT, blockchain adoption holds tremendous potential. Information relayed by these devices is too vast to track using conventional systems. A centralized network cannot independently verify each gadget without sacrificing control to a single party.
Only a blockchain that is scalable, sustainable, and interoperable, has the capacity to take all the various inputs, record them, and ensure information integrity. Developing IoT in tandem with blockchain adoption is imperative to any industry looking to modernize its operations. A decentralized network will coordinate the information given by each sensor without having to compromise the data.
As climate change, deforestation, and water contamination by pesticides and fertilizers puts at risk the world's food supply; sustainability becomes an ever more pressing issue. Enterprise blockchain adoption is the perfect way to promote sustainable production.
Information regarding the production practices and origins of food can be provided to the end consumer using QR codes on a simple smartphone. A decentralized network secures the information's reliability so a buyer can choose to use a reliable source.
The traceability provided by a blockchain solution not only helps the consumer but also regulators. Much of the inefficient bureaucracy needed to monitor food production would be made obsolete by blockchain adoption. Government agencies could quickly monitor if products have followed required industry regulations by merely tracking them over a decentralized network easily accessible in real-time through a computer or smartphone.
EMURGO is also at the forefront of this development through EMURGO Traceability Solution. The coffee traceability solution deployed in Indonesia helps promote sustainably-grown, certified Arabica coffee from local farmers which benefits the local coffee growers by providing proof their beans followed sustainable best practices to businesses and consumers purchasing their coffee beans.
The final piece of the puzzle blockchain adoption can offer enterprises is fair trade. A lot has been made about how important it is to compensate producers and small farmers adequately, but much progress is still needed.
The supply chain of food is vast and has many intermediaries located in different parts around the world. It is very complicated to ensure that purchasing prices in the supply chain are adequately compensating the producers. Once again, blockchain offers the best choice to solve this problem with its data storage and transparency.
A decentralized network that records information and transmits value simultaneously, is a concept known as triple entry bookkeeping. It is perhaps the most critical innovation in supply chains, finance, accounting, economy, and regulation the world has seen in a century. Decentralized ledgers are an innovation in all those different fields wrapped in a single technology.
Through blockchain adoption, it will finally be possible to follow the entire chain of value to the source and ensure producers receive a fair amount for their labor. It will improve conditions in the developing world without having to burden production and distribution with further bureaucracy
As Emurgo reviewed all the trends that are pushing enterprises to deploy blockchain solutions in the coming months and years. The global pandemic has only accelerated the need for digital solutions that can maximize efficiency and security of data. Blockchain technology holds a lot of promise and is delivering on those promises more and more as development continues at a rapid pace. Enterprises are gaining value at an increasing pace as awareness rises.