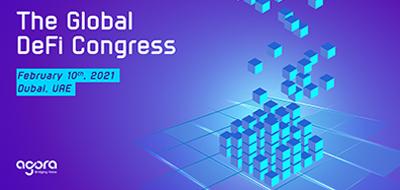 Agora Events group is launch ingthe first and only event focused on DeFi in the MENA region. The Global DeFi Congress will take place on February 10th 2021 in Dubai, with the participation of the Sharjah Research, Technology, and Innovation Park, The Ministry of Science and Technology Policy of Japan, the Governing Council of the International Institute for the Unification of Private Law and the Work Group for Cryptocurrency Regulation of the Ministry of Finance of Latvia, Tezos Foundation, CasperLabs, and The Digital Innovation and Blockchain Unit of the European Commission.
The event is a one-day congress comprised of collaborative strategic discussions on how to best build the open financial system. The congress is a bridge that will bring together investors, regulators, solution providers and subject matter experts to discuss, debate and challenge the existing financial system and propose ideas and opportunities on how to challenge and improve our financial system through DeFi.
The event will be centered on 4 topics:
• Who owns the bridge? The builders of DeFi Platforms.
• Who regulates the bridge? Regulators and Governance around DeFi
• Who crosses the bridge? End users of DeFi Products
• Who finances the bridge? Investment opportunities and challenges in DeFi
The congress will also focus on raising funds for DeFi projects. The main focus of the event is a series of one on one meetings between DeFi projects looking to raise funds and pre-qualified investors looking to invest into DeFi.
"AOCP attended the 3rd edition of the Global Blockchain Congress to raise funds and met over 20 investors here in Dubai, including the Sheikh Sultan of Sharjah and we are very happy to announce that we just got our first investment deal for $1 million. Many thanks to Hadi and the team. You are a superman with the most amazing network of investors. Amazing event, best I've ever attended."Co-Founder, Alpha Omega Capital
Sponsors Profiles:
● Decentralised Exchanges (DEXs)
● Wrapped bitcoins (WBTC)
● Prediction markets
● Yield farming
● Money legos
● Stablecoins
● Liquidity mining
● Composability
● Lending platforms
Startup founders from all over the world need financial advocates on their side. Raising funds and receiving funding is vital to the growth and success of startups. NOW is the right time for international startups to tap into a pool of highly engaged investors from the MENA region who are actively looking to invest in exciting and promising companies.
Some of the Speakers:
H.E. Naokazu Takemoto – Minister of State for Science and Technology Policy, Japan.
H.E. Hussain Mohammed Al Mahmoudi – CEO, Sharjah Research, Technology, and Innovation Park, UAE.
Baiba Broka – Member of the Governing Council, International Institute for the Unification of Private Law, Work Group Member on Cryptocurrency Regulation, Ministry of Finance, Latvia, and Former Minister of Justice, Latvia.
Kristina Lucrezia Corner – Managing Editor, Cointelegraph.
Ralf Glabischnig – Founder & Board Member, Crypto Valley Venture Capital.
Mrinal Monhar, CEO, CasperLabs.
Peteris Zilgalvis, Head of Unit, Digital Innovation and Blockchain, European Commission.
Hubertus Thonhauser, Chairman of the Board, Tezos Foundation.
Some of Our Previous Speakers:
Andrea Bonaceto – CEO, Eterna Capital
Fatma Elsafty – Blockchain Manager & Enterprise Solutions, Du
H.E. Zulfiquar Ghadiyali – Executive Director Of DIHC under chairmanship of HH Sheikh Mohammed bin Sultan bin Hamdan Al Nahyan
Iqbal Alikhan – Program Director, Blockchains & Innovation, IBM
Jorge Sebastiao – Chief Technology Officer, Huawei
Navin Gupta – Managing Director, Ripple for MENA and South Asia
Zachary Cefaratti – CEO & Principal Founder, Dalma Capital
For participation apply here: https://platform.agoragroup.ae/apply/21/global_defi_congress