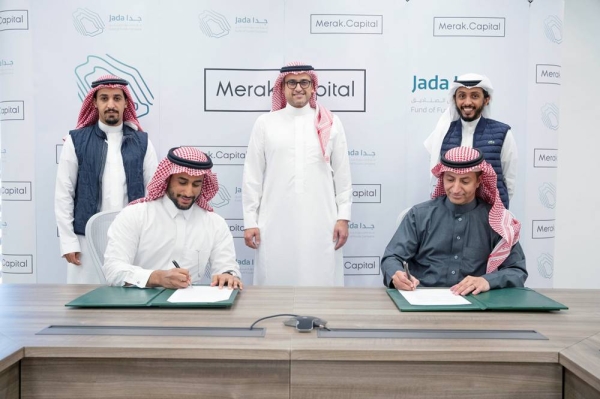 KSA Jada Fund of Funds has committed to Merak Technology Ventures Fund, which focuses on early-stage technology companies in the Kingdom of Saudi Arabia, and is managed by Merak Capital, a blind pool venture capital (VC). Merak Capital launched one of the first VC funds operating under the jurisdiction of the Capital Market Authority (CMA) in Saudi Arabia, focusing on the growth and scaling of small to medium enterprises (SMEs) and startups operating in the fields of the digital economy and infrastructure, financial technologies (FinTech) and emerging fourth industrial revolution (4IR) technologies.
Adel Al Ateeq, CEO of Jada, commented on the commitment: "Jada's commitment to Merak Capital demonstrates our appetite for Emerging Managers, which is a testament to our core belief that emerging fund managers can propel Saudi's venture capital sector forwards, once they have the right structures, strategy, governance and alignment of interest in place. Raising a venture capital fund is not straight-forward. The fact that Merak Capital offers such a compelling value proposition at this stage of their life, with a new strategic approach to unlocking Saudi's emerging tech industry, makes our partnership all the more exciting."
Merak Capital was founded and officially launched as a CMA-licensed investment firm in July 2020, by founding partners Abdullah Altamami, Othman Alhokail, and Abdulrahman Bin Mutrib. The three founders are Saudi nationals, whose focus at Merak Capital falls on forging a technology-centric portfolio of high-potential tech startups based in Saudi. Each one of Merak's founders brings an extensive track records of investing in technology across different asset classes.
Jada's commitment to Merak Capital also underscores the fund of fund's confidence in emerging tech startups to fuel and sustain long-term socioeconomic growth in the Kingdom. Indeed, Merak Capital's focus on emerging tech start-ups stems from the enormous potential for digitization in the Kingdom, in alignment with the ambitions of the Vision 2030 to use the technology sector to catalyze the nation's economic diversification over the next decade. And with 60 percent of Saudi's 34 million population under the age of 35, the Kingdom has an online presence of 90 percent. The potential for the technology market's growth in the Kingdom and the region at large is tremendous.
Remarking on Jada's commitment to the firm, Merak Capital CEO Abdullah Altamami, said: "We are delighted to secure this commitment from Jada, whose approach to capital commitments is thorough, diligent and challenges funds to prove what value they can bring to the market. Our partnership also stands out as a clear vote of confidence from Jada in our process, CMA structure, and the venture capital asset class in Saudi Arabia.
He added: "Together through our partnership, we are confident that we can empower and enable Saudi's SMEs and startups in the emerging technology sector to create a long-term impact on the Kingdom in the next ten years and beyond."
Jada was established to increase the localization of non-oil sector economic growth and build an institutional venture capital and private equity ecosystem that can propel the Kingdom's long-term diversification efforts and raise the SME sector's contribution from 21 percent to 35 percent of the Kingdom's GDP by 2030. — SG