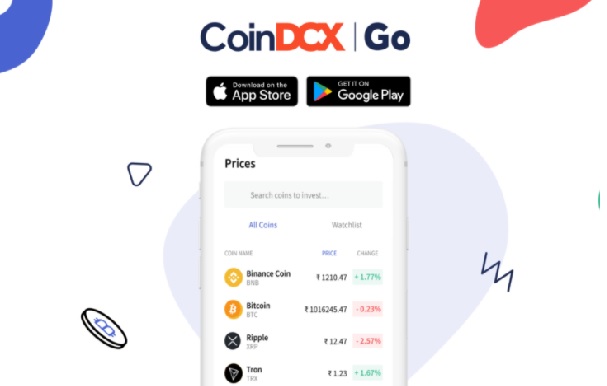 CoinDCX, India' crypto exchange has launched CoinDCX Go, India's simplest Bitcoin app where users can buy Bitcoin and many other leading cryptocurrencies legally as easy as a click. CoinDCX Go is specially made to provide the swiftest and easiest path to start investing legally in cryptocurrencies like Bitcoin, Ethereum, and many other altcoins. It is the most effortless Bitcoin exchange app India can ever get. You can buy, sell, send, receive, store, and trade cryptocurrencies, all using a single app that is exceptionally friendly, absolutely safe, and very comfortable to use.
CoinDCX, India's largest and safest exchange platform has made diving into crypto investments possible for all new-age investors and removed all the possible hurdles from their way which were stopping them from investing in the world's fastest growing asset class. The path is a straight road now where they can accelerate your profits at full throttle.
Just like any unusual shift in normalcy gets us questioning(for e.g. the sudden quarantined lifestyle), investors in India were also questioning investing in cryptocurrencies, a completely new asset class, since the banking ban was removed by the Supreme Court in India. Adding to this, 2020 saw the sudden rise in BTC's price turning more eyes towards including Bitcoin, the best performing asset of 2020, in their portfolios. Adding to this, CoinDCX conducted a survey to understand what India feels about cryptocurrency. According to the survey, the majority of India thinks what is stopping India to invest in cryptos is regulation uncertainty (68%), lack of easy options (60%), and lack of awareness (52%) about cryptocurrencies. Having mentioned that, 63% of people think Bitcoin as a good alternate investment class and wish to include Bitcoin in their portfolio. With a mix of doubts and desires, India started questioning
Decrypting the various technicalities, making the process of buying cryptos, legal, easy and simple covering all the transaction processes involved, CoinDCX has launched an app just : CoinDCX Go.
CoinDCX Go is a platform created with the sole goal of creating crypto investment easy for you. To help you keep up with the constant change, the Go App has taken into account the insights from various sources and advanced its functionality to give you efficient investing and easy transaction experience. With the impressive number of Bitcoin investments by major global investors in the year 2020, we are providing you a 3 step simple and easy solution. Say 'Hello!' to crypto with CoinDCX Go!