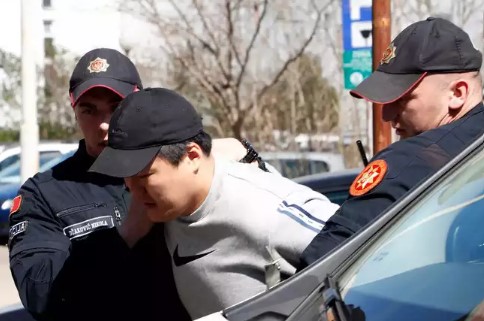 The founder of two digital currencies that reportedly lost more than $40 billion last year, Do Kwon, has been charged with fraud by US prosecutors.
He was arrested in Montenegro and an eight-count indictment against him was made public in the US District Court in Manhattan.
Kwon, a South Korean national who co-founded Terraform Labs and developed TerraUSD and Luna currencies, is charged with securities fraud, wire fraud, commodities fraud, and conspiracy.
Kwon had been evading authorities for several months, and South Korean authorities issued an arrest warrant for him last September.
The criminal charges follow related civil charges by the US Securities and Exchange Commission against Kwon and Terraform.
On Friday, South Korean police confirmed that the arrested suspect's fingerprints matched Kwon's, and they will work to repatriate him back to South Korea.
A representative of the South Korean National Police Agency stated that they had shared the confirmation of Kwon's identity with the Seoul Southern District Prosecutors' Office and Interpol in Montenegro.
The prosecution service spokesperson also stated that they would cooperate with other organizations to carry out a quick repatriation.
According to Montenegro's interior ministry, police detained Kwon and another suspect at Podgorica airport, while they were trying to board a flight to Dubai. During the arrest, police found forged passports of Costa Rica and Belgium.
Interior Minister Filip Adzic confirmed on Twitter that the person arrested was Do Kwon, a co-founder and CEO of Terraform Labs, who is suspected of being one of the most wanted fugitives and behind losses of over $40 billion.
As previously mentioned, the indictment accuses Kwon of several counts of fraud, including securities fraud, wire fraud, commodities fraud, and conspiracy. Authorities alleged that Kwon misrepresented the stability of TerraUSD, which was once among the top 10 cryptocurrencies by market value, and that TerraUSD and Luna were paired, meaning a decline in one could affect the other.
The SEC also accused Kwon and Terraform of orchestrating a multi-billion dollar crypto asset securities fraud, repeating false and misleading statements to gain trust before causing significant losses for investors.