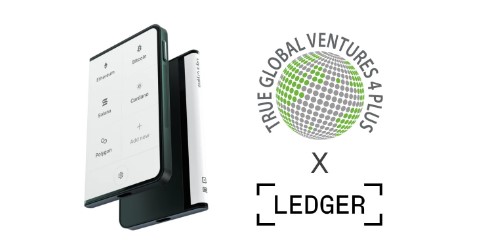 True Global Ventures (TGV) has invested over US$24 million (over €22 million) in Ledger, which is a leading platform for digital assets and Web3, offering various products, including Ledger Nano X and Ledger Nano S Plus, as well as Ledger Live and Ledger Enterprise Solutions.
This investment will allow Ledger to further its global ambitions and move towards becoming a highly sought-after consumer technology brand.
The latest funding round, which is a Series C extension, has the same valuation of €1.3 billion and has been supported by both existing and new investors, such as True Global Ventures, 10T, and Molten Ventures.
Despite the challenges faced by the macroeconomy and the industry, investors still have faith in Ledger, which currently secures more than 20% of the world's cryptocurrencies and over 30% of the world's NFTs. Furthermore, Ledger has announced its latest product, Ledger Stax, which was designed by Tony Fadell, a renowned inventor who co-founded Nest and created the iPod and iPhone.
True Global Ventures has also identified the 5 Web3 megatrends for 2023, and one of these megatrends highlights the three decentralization winners for 2023, which are self-custody, Bitcoin, and DeFi.
Consequently, "Traditional Finance" firms like Institutional Custodians and Investment Advisors are working more closely with Ledger, which provides enterprise security solutions and a secure governance layer for enterprise self-custody.
Coinhouse, a regulated French exchange and portfolio company of True Global Ventures, also offers Ledger Enterprise as a custodian solution for their clients.
The recent funding of over €22 million from True Global Ventures will enable Ledger to expand its product offerings, including Ledger Stax and other hardware innovations, and improve user experience in the world of Bitcoin and NFTs.
The Ledger Stax has already exceeded demand, and more inventory will be available for pre-order later in the summer of 2023.
Ledger's products can be purchased through retail partners such as Best Buy, with the Ledger Extension making it easier to use Ledger devices with wallet-connected applications.
Ledger's CEO, Pascal Gauthier, believes that the Internet of Value will reshape how people manage their assets and interact with the internet. Ledger's new hardware wallet, Ledger Stax, designed by Tony Fadell, aims to facilitate this transition.
He added that the company will continue improving its hardware and software to enhance user experience and integrate new features. Ledger Enterprise will help corporations leverage digital value with the proper governance and security frameworks. As the Internet of Value becomes more mainstream, Ledger devices will enable users to manage an ever-expanding range of tokenized assets.