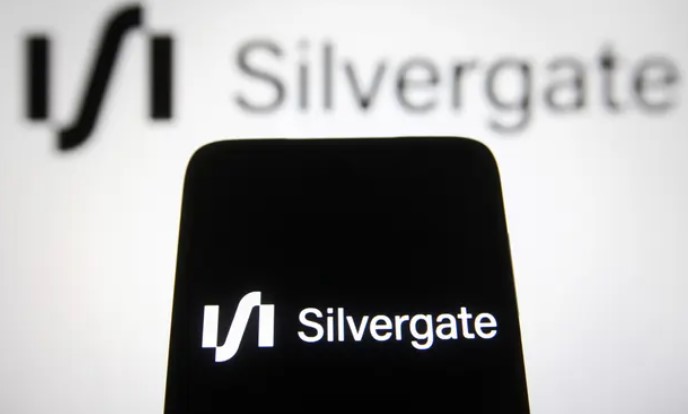 Silvergate Capital Corp (SI.N), a bank that focuses on cryptocurrency, announced that it intends to cease operations and voluntarily liquidate due to losses incurred from the sudden collapse of cryptocurrency exchange FTX.
This news caused the company's shares to fall by 35% in after-hours trading.
The decision to close the bank was made after Silvergate Capital Corp warned the public last week that it was considering its ability to continue operating as a viable business.
The company disclosed that it had sold additional debt securities this year at a loss and that further losses could result in the bank being undercapitalized.
The severe consequences faced by Silvergate highlights the significant impact caused by FTX's collapse, which had filed for bankruptcy in November, as it was unable to meet customer withdrawal requests.
Silvergate, in a statement, announced that it believes winding down its operations is the most suitable approach given the "recent industry and regulatory developments." As part of the liquidation plan, Silvergate aims to repay all deposits in full.
Last week, several partners of Silvergate Capital Corp, such as Coinbase Global Inc and Galaxy Digital, terminated their relationships with the bank.
After Silvergate announced its plans to wind down and liquidate, Coinbase stated that it had no funds deposited with Silvergate on behalf of its clients or itself.
Binance CEO Changpeng Zhao also confirmed that his company did not suffer any asset losses at Silvergate.
In the fourth quarter, Silvergate reported a loss of $1 billion due to a surge of deposit withdrawals amounting to more than $8 billion by investors.
This being said, it is important to note that this development will have significant consequences on the crypto industry, and it may be viewed as a desired outcome by banks and government authorities.
Analytical story
Silvergate was one of the few banks that had established trust with both big and small players in the cryptocurrency industry, providing an on/off ramp between fiat and digital currencies.
The bank's proprietary platform, the Silvergate Exchange Network (SEN), allowed for seamless 24/7 transactions.
As the bank grew to serve a significant portion of the crypto industry, its balance sheet expanded to nearly $12 billion. However, following FTX's collapse, many depositors began withdrawing their funds, resulting in a bank run that left Silvergate with only $3.9 billion in deposits by the end of December.
To meet its obligations, Silvergate sold assets at steep losses, resulting in over $1 billion in losses in Q4 2022. Therefore, it borrowed $4 billion from the Federal Home Loan Bank of San Francisco, but even this could not prevent the departure of key partners such as Coinbase and Galaxy, who doubted the reliability of Silvergate's payment processing system.
As a result, the bank decided to halt its network and wind down operations.
Nevertheless, according to Coinage media, although Silvergate's collapse was not a crypto-related issue. However, some politicians are already pointing fingers at the risks of crypto.
The real problem was with banking, as Silvergate was one of the few regulated options that the entire industry relied on. Unfortunately, there are not many alternatives, which creates a catch-22 situation.
Recently, America's trio of banking regulators blocked Caitlin Long, the founder and CEO of Avanti Financial Group, from providing a crypto banking option that could have prevented this situation.
Some may argue that the government is merely protecting the banking industry from crypto, but this also means that such incidents will continue to occur unless other crypto banks are approved and existing banks are allowed to bank crypto.
So, can one say that the government is partly responsible?