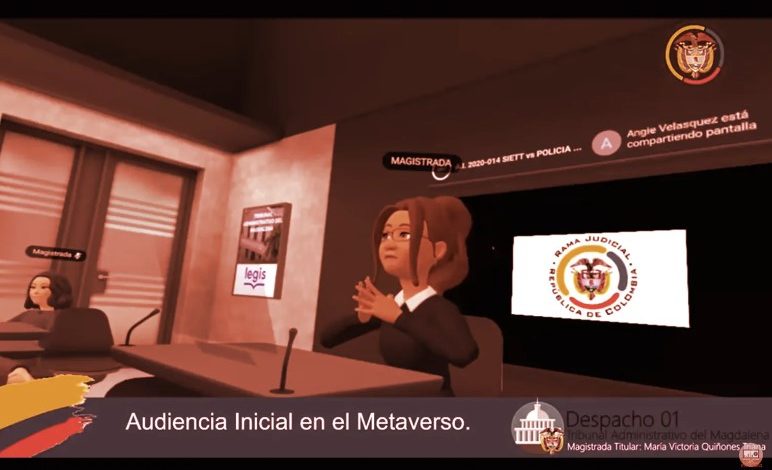 Despite Mark Zuckerberg's virtual reality arm incurring losses, Colombia has found the technology to be practical.
Recently, the country became one of the first in the world to conduct a court hearing using Meta's metaverse in the Meta platform's Horizon Workrooms.
This platform allows teams to collaborate in a virtual workspace, and the lawmakers in Colombia held a two-hour hearing using this technology.
The country's attorneys attended the hearing by donning virtual headsets, and the proceedings were broadcast live on YouTube.
Attendees of the virtual hearing were presented as computer-generated avatars.
According to those present at the virtual hearing, which involved a complainant attempting to sue the police, the event was a success.
Magistrate of the Magdalena court, María Victoria Quiñones Triana, stated that the use of technology in judicial proceedings is critical in expediting the process of justice.
However, not all viewers of the live stream appreciated the use of this technology. In fact, some criticized the use of cartoon-like avatars, stating that it detracted from the gravity of the case.
One viewer commented that the use of dinosaur characters would be equally absurd.
Yes, Colombia's lawmakers recently held their first-ever completely virtual hearing using Meta's technology. Nevertheless, this is not the first instance where Meta's technology has been employed in hearings worldwide.
In September of last year, a Chinese court held a virtual hearing using the same technology, as reported by local media.
Virtual court hearings, along with virtual meetings in general, have become commonplace in 2020 as a result of the COVID-19 pandemic.
Due to worldwide lockdowns implemented by governments, professionals began using the Zoom video conferencing platform for meetings, causing a surge in the company's stock prices and market capitalization.
This sudden heavy reliance on the technology led to some bizarre and amusing incidents, such as a Texas lawyer getting stuck as a kitten on camera after failing to disable a video filter.
However, holding an entire meeting with all participants represented as cartoonish digital characters is a more extreme situation.
Despite suffering significant financial losses, Meta (formerly known as Facebook) has invested billions into metaverse technology.
In the fourth quarter of 2022, its Reality Labs division reported a staggering loss of $4.28 billion. However, Meta CEO Zuckerberg has committed to further investment in the metaverse, citing it as one of two major technological areas driving the company's future plans.
He stated last month that "the two major technological waves driving our roadmap are AI today, and, over the longer term, the metaverse."