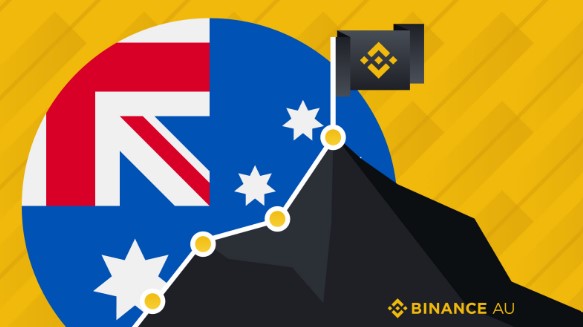 On Thursday, Binance admitted to mistakenly categorizing several Australian users as "wholesale investors", which led to the forced closure of their derivative positions.
Binance Australia has previously adhered to local regulations that prohibit retail traders from trading futures and financial derivative products on their platform.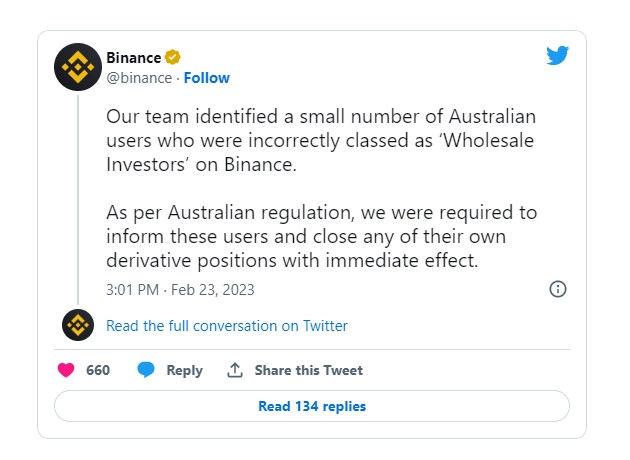 Only "wholesale" traders are permitted to engage in such trades on Binance Australia.
In response, Binance has reached out to the affected users and pledged to reimburse them for any losses they incurred while trading derivatives on their platform.
Despite the buzz on Crypto Twitter regarding Binance's closure of future positions, the crypto market including bitcoin (BTC) experienced a decline.
At the time of writing, bitcoin's value had dropped by 2.1% against the Australian dollar and a slightly less 1.5% against the US dollar.
This is how the story goes
Various Twitter users have shared screenshots indicating that certain users who did not meet the criteria to be classified as a "wholesale investor" were notified that all their positions on the Binance Australia Derivatives Platform would be closed.
The affected users were advised to provide the necessary evidence to satisfy the "wholesale investor" requirement if they wished to continue using the platform.
The notification also assured users that Binance Australia Derivatives was in the process of developing a remediation and compensation plan to address any refunds owed to impacted users.
The notification further stated that these actions were carried out in compliance with local regulations in Australia, and that affected users were promptly informed and their accounts were closed accordingly.
According to Cointelegraph, Oztures Trading Pty Ltd operates under the trading name Binance Australia Derivatives, with Binance's local Australia branch serving as its authorized representative. The company's official overview, published in July 2022, explicitly states that derivative products are solely offered to wholesale clients in Australia.
However, users have expressed concerns on Twitter, with one Australian user reporting issues staking their cryptocurrency due to regional limitations, and another stating that flexible earn was no longer accessible in Australia.
Binance's support team responded, indicating that they would investigate the issue.
In February, Australia took measures to strengthen its regulatory oversight of the cryptocurrency industry as part of its "multi-stage" strategy to combat fraudulent activity.