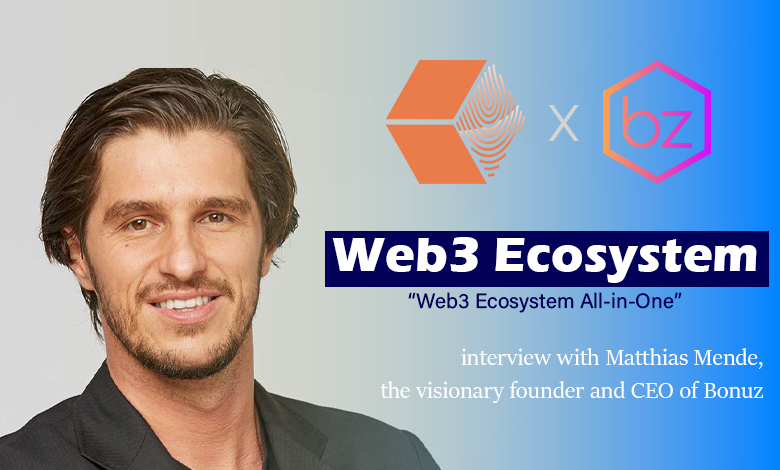 The merge of the physical and digital through social engagement Web3 platforms is a cutting-edge concept that aims to create a seamless integration of both worlds, where digital and physical entities coexist and interact with each other.
This technology is not only used for gaming and entertainment, but also for social engagement, education, and multiple business use cases.
Web3 empowers the technologies of extended and mixed reality to be decentralized and community-driven, creating new opportunities of social interactions for the development of new decentralized communities as well as new economies.
With the rise of virtual reality, augmented reality, and other immersive technologies, the virtual world is rapidly turning into one and is expected to revolutionize the way we communicate, collaborate, and engage with each other, both online and offline.
Bonuz, the revolutionary social engagement Web3 platform, offers a wide range of new features that help businesses, creators, and communities to engage with their existing customers and attract new ones.
The app provides tools to create events, reward active participants in a user-friendly way, grant token-gated access to exclusive material and much more.
The platform is an all-in-one solution that comprises various products, including the Bonuz App, the Creator/Celebrity Token Launchpad, the Bonuz Metaverse Experience, the Bonuz Augmented Reality Viewer, and the Bonuz Store. These products are interconnected through a decentralized digital identity that is linked to the most widely used social media platforms, making it an inclusive solution.
As a matter of fact, each product offers distinct functionality and serves a specific purpose for its users, helping them expand their audience and accessing unparalleled experiences.
Nevertheless, the company's MVP is the Bonuz App, which serves as a SocialFi, GameFi, and lifestyle-related platform, starting off with utilizing functions such as proof of ownership and proof of attendance.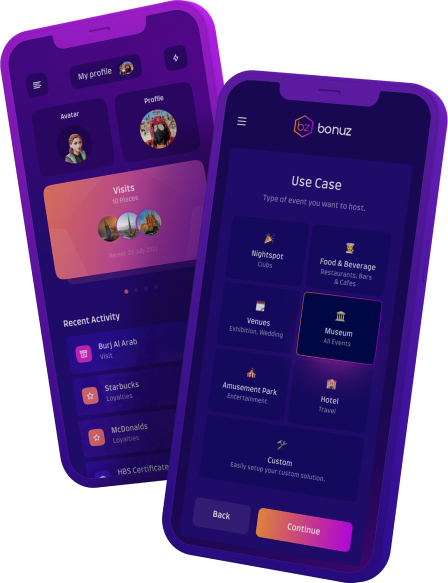 Proof of ownership is more commonly known as "token gating", meaning that a user has to own a certain token or NFT in order to attend a specific event that could be virtual or real, such as a concert or a music festival. In fact, this feature could be applicable to anything and everything.
Imagine for instance attending a live concert. Once you are there, the physical ticket gets ripped by the bouncer and is eventually thrown in the bin. However, a digital ticket coming in the form of an NFT is here to stay. It might also become a valuable asset for other fans to own, especially if it represents a truly unique concert or a special one-off event like the opening of the new Atlantis The Royal, which was hosted by Beyonce and other A-listers.
Technicalities
Regarding the tech side, the project is chain agnostic and runs on multiple blockchains, depending on the use cases and utilities.
The $BONUZ token itself runs on the Binance Smart Chain, thanks to its mainstream popularity and great adoption. Moreover, creator and celebrity tokens as well as a big part of the ecosystem run on the Near Protocol for its very low transaction fees, scalability, and most importantly, its proven stability.
It is important to note that the Bonuz team believes in the importance of adhering to environmental, social, and governance (ESG) standards, which is why they use Binance's Proof of Staked Authority as their primary utility token.
In contrast, the Aurora blockchain is utilized for loyalty programs and education certifications of identity bound tokens, also referred to as Soul Bound Tokens. These types of tokens cannot be transferred from a user's wallet, and Aurora+ has unique features like EVM capabilities and gas-free transactions for loyalty, redeemable, or voucher dynamic NFTs.
In other words, Bonuz thinks that users should not be required to possess a native blockchain protocol token in their decentralized wallet to pay for gas fees when redeeming a voucher NFT in a venue for water or other beverages. The company believes that the user experience should be as seamless as it is on popular Web2 apps like TikTok, Careem, and Uber.
Long story short, this how the event procedure goes:
Organizers publish their events on the Bonuz app and users secure their tickets through an airdrop or by purchasing them. The tickets are stored in the user's Bonuz wallet.
At the event, attendees check-in by scanning their Bonuz ID-connected QR code.
Once checked in, attendees have the option to participate in gamified challenges or quests within the app to earn rewards and vouchers. Additionally, users can upload pictures and videos taken during the event, which organizers may use for marketing purposes and incentivize with redeemable dynamic NFTs.
By encouraging users to socialize and participate in interactive activities, they receive a higher social rating, increasing their chances of being invited to more exclusive events.
Participants also receive a proof-of-attendance NFT for their engagement, also known as a badge of honor. The QR code is connected to the user's digital identity and decentralized wallet on the Bonuz app.
The benefits of blockchain in event planning
During an interview with UNLOCK Blockchain, Matthias Mende, the visionary founder and CEO of Bonuz, explained, "As the founder of Bonuz, I am extremely excited about the potential of our platform to revolutionize the way businesses, creators, and communities engage with their customers and audiences."
He added, "As someone who has fair experience in Web3, I am truly convinced that this technology has the potential to revolutionize the way we plan and execute events."
Mende went on to tackle the key benefits of blockchain in the event planning space. He explained that it is a secure and transparent way to manage ticket sales and attendance.
By using smart contracts and QR codes, organizers can easily track attendance and prevent ticket fraud. Additionally, by using blockchain-based digital tokens, organizers can easily reward attendees for their participation and valuable engagement, which will absolutely help increase overall event traction and satisfaction.
Another advantage that Mende mentioned is blockchain's ability to provide a permanent and tamper-proof record of event attendance and participation. This can be especially valuable for events that are part of a series, such as conferences or music festivals, as it helps organizers track attendance over a certain time and better understand their audience.
The last advantage that Mende spoke about is the fact that blockchain technology can also help event planners to create and manage virtual and augmented reality experiences. With the increasing popularity of virtual events, blockchain can ensure the creation of secure, transparent, and inclusive virtual spaces.
Bonuz celebrities and influencers
Bonuz also specializes in creating unique digital tokens for celebrities and influencers who have joined the platform. These tokens are created based on the audience size and engagement of the individual, and are sold to their super fans and followers.
It is worth noting that Bonuz has already signed creators and artists with a combined following of over 100 Million, and they will be receiving a significant percentage of the revenue generated from these sales.
Once their limited token is purchased and added to a user's digital wallet, the users are able to gain access to exclusive content drops, experiences, fan-shop discounts, metaverse events and pre-sale concert sales if the concert ticket agency permits.
At the end of the interview, Mende emphasized his admiration and gratefulness for the UAE. On his personal social media accounts, he shares pictures with the Ruler of Dubai on multiple occasions, as well as other prominent figures and key-decision-makers.
He said, "I am incredibly inspired and grateful for the opportunities that this country has provided me with, and I am extremely happy that I made the decision to move here 16 years ago. We are deeply rooted in this region and we are not going anywhere. I am always happy to work with locals, especially if there is a chance to build something solid and meaningful together."
He concluded, "The UAE has a long history of being at the forefront of new and emerging technologies, and I strongly believe that the country will continue to be so in the field of blockchain and crypto. We are excited to be in the right country at this time of rapid evolution to simply write history together."