Events
Countdown to the Blockchain Fest Singapore 2023 is On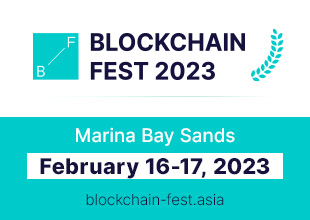 The countdown to Blockchain Fest Singapore 2023 is officially on!
FINEXPO, one of the world's leading companies specializing in the organization of financial, trading, international events, fairs and expos, is proud to present Blockchain Fest 2023 in Marina Bay Sands Convention Center, Singapore on 16-17 February 2023.
The event will gather leading professionals, global leaders and beginners in the areas of blockchain, cryptocurrency, crypto exchanges, decentralized finance (DeFi), mining, payment systems, and investment sectors.
As part of the event, there will be a pre-party for VIPs only at Maison Ikkoku on 15 February from 4 PM onwards.
This exclusive opportunity will bring together development teams, traders, OTC providers, fund managers, centralized exchanges, DeFi protocols, and NFT artists to network and collaborate.
As part of the Business and VIP ticket holders, there will be networking opportunities available on 16-17 February between 10:00 and 18:00 in which attendees can engage in networking.
As part of the Gala Dinner on 16 February at 18:00, which is also available to Business and VIP ticket holders, the dinner will provide attendees with an opportunity to meet other industry leaders from around the world and create connections.
A wide variety of topics will be discussed during the duration of the conference, including blockchain applications in a wide variety of industries, decentralized finance, the future of cryptocurrency, blockchain security and privacy, as well as a lot more.
It is expected that attendees will have the opportunity to engage with industry experts and learn about the latest advancements in the field through interactive keynotes and panel discussions.
Everyone interested in crypto investing and trading, as well as anyone who is motivated to learn, is invited to attend this event.
Tickets are available in four different types: Expo, Standard, Business, and VIP tickets.
By registering here, you will be able to attend and meet the global leaders at the event with us.