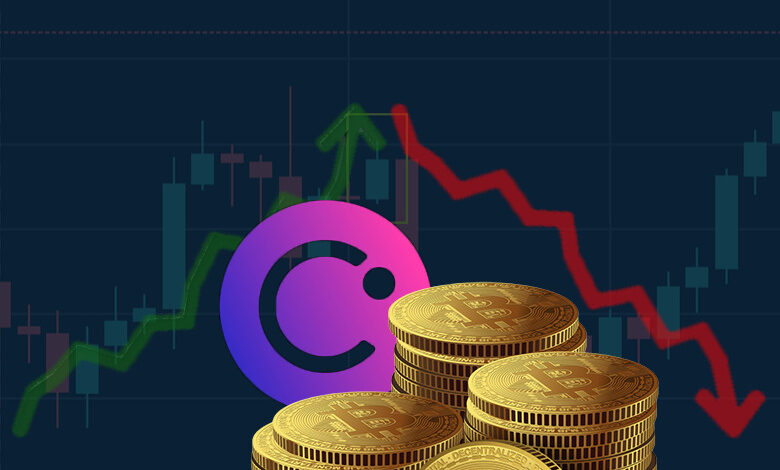 As it drastically crashed, Celsius Network (CEL) stole the show in the past couple of weeks for the wrong reasons, which increased panic and stress levels among investors.
With the fall of Bitcoin and the alarming market conditions, Celsius Network decided to pause its withdrawals, swaps and transfers on its platform, leading to a grand cryptocurrency selloff and prompting a competitor to announce a potential bid for its assets.
What is Celsius?
Founded in 2017 to provide fair and transparent services that have been abandoned by banks – fair interest, low rates for loans, and lightning quick transactions- Celsius Network is a regulated, SEC compliant, lending platform that enables users to receive interest on deposited cryptocurrencies or take out crypto collateralized loans.
The company's main goal is to attract users by returning high yields on their deposits while maintaining the benefits in traditional outlets such as quick, fee-less transactions. For existing crypto investors wishing to take out a loan, Celsius provides an opportunity to receive dollars without cashing out of cryptocurrency holdings.
The system is based around their native token CEL, which is used to take loans, provide rewards, and make payments.
Further, Celsius implements a loyalty program where status is reflective of CELs value in the user's portfolio. As a member progresses to each subsequent tier, they are given bonus rewards and discounts on loan interest.
In other words, Celsius crypto lending and borrowing platform, attributes its exponential growth to its community-centric model. Through the Celsius platform, customers can earn yield on their crypto at rates of up to 17% APY on 43 cryptocurrencies, paid out weekly. Users can also use their crypto as collateral to borrow dollars or stablecoins at rates as low as 0% and can earn rewards in-kind or in CEL token.
The rise of Celsius
Being one of the largest crypto lenders in the industry, Celsius had previously raised $864 million through venture capital and was willing to take over the crypto sphere. The network had custodied over $3 billion worth of funds via cryptocurrencies for its 1.7 million growing user base.
In fact, in less than a year, Celsius has grown its total asset holdings from $1 billion to over $20 billion, which gave it immense credibility and popularity, even seeing investment into Celsius crypto by CDPQ, Canada's Second largest Pension fund.
The generous amounts of interest rates it was offering also hyped it up and turned it into a crypto giant, in addition to the consistency the team was able to maintain, which focused on demanding high yields on their clients' money to pay investors.
The fall of Celsius
However, when the market tumbled, including Ethereum and Bitcoin, Celsius' assets on the management fell by 50%- from $24 billion down to $12 billion, meaning they faced a liquidity crisis. And if every investor tried to withdraw their money, the company wouldn't be able to fulfill their withdrawals.
Therefore, Celsius decided to suspend withdrawals, which means locking its investors out of their money- a massive red flag in the industry. In fact, promising a high yield on crypto deposits and not taking the market conditions into consideration was mostly going to end up in bankruptcy, as the model is not sustainable. So, Celsius fell prey to its own language and its work module came under the radar.
Moreover, its dependence on-chain money markets MakerDAO was the final nail in the coffin; the company had a nine-figure loan with MakerDAO and that is where things went wrong.
Also, it has been revealed that the company owes its biggest creditor, Pharos, $81 million, along with others mentioned below.
This being said, the company filed for Chapter 11 bankruptcy protection after a month of chaos, looking to stabilize its business by restructuring in a way that maximizes value for all stakeholders.
Celsius said it has $167 million in cash on hand to support operations in the meantime.
"This is the right decision for our community and company," Alex Mashinsky, co-founder and CEO of Celsius commented.
He added, "I am confident that when we look back at the history of Celsius, we will see this as a defining moment, where acting with resolve and confidence served the community and strengthened the future of the company."
The future remains unclear for the crypto giant, as the company is now a deep hole, but the practices of Celsius and several other companies that had excelled during the boom in digital assets present a challenge for legislators and regulators who are being questioned for their lack of protection of normal investors. These are all signs that warned investors about products that seem too good to be true.
Therefore, reading, researching, and going thoroughly over the smart contract of a specific token or coin, in addition to how the end funds of the user are being used, is extremely crucial to secure a successful investment.
Before the Luna crash, many activities and concepts were not clear, but after that, everything popped out. The digital space shouldn't only depend on news platforms, as they provide only 10-20% of the needed information; all valuable information is found online, from Discord to Telegram channels and the conversations happening on different portals. This is why, it is necessary to research before investing as well as staying up to date by reading valuable information, for not everything that shines is gold.