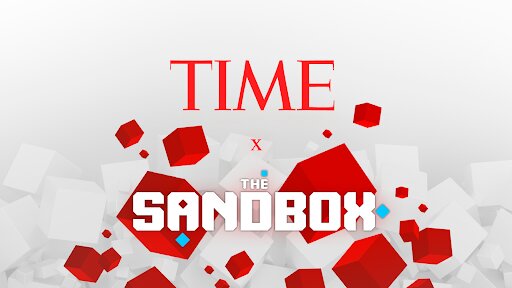 The Sandbox, a subsidiary of Animoca Brands and TIMEPieces, announced today a partnership to develop 'TIME Square', TIME's first-ever destination in the metaverse. TIME Square will be built on TIME's land in The Sandbox as a destination for convening, art and commerce, inspired by the visual spirit and energy of the iconic neighborhood in New York City.
TIME President Keith A. Grossman revealed the partnership during The Sandbox event at NFT.NYC, while also issuing an open call for an architect to design TIME Square, reimagining the world-renowned cultural center for the metaverse. TIMEPieces is turning to its vibrant community and metaverse enthusiasts worldwide to identify a visionary architect to recreate and reimagine the destination as a voxel creation.
"Our goal is to create a destination that will be the heart of the metaverse", said Keith A. Grossman, TIME President.
He added, "Since launching TIMEPieces in September 2021, we have focused on developing a community in Web3 that benefited from the incredible 100-year legacy and access TIME has established. We are thrilled to now tap into that community as we seek to find the architect to design TIME Square in the metaverse, as we create an immersive experience with The Sandbox that provides a natural bridge between the virtual community of TIMEPieces, the historical coverage and global relationships of TIME, the unique IP coming from TIME Studios, TIME for Kids, and our real-life events".
TIME Square will be an inclusive environment that will provide unique experiences to TIMEPieces holders. The destination will serve the TIMEPieces community by providing virtual access to discussions, events, screenings of TIME Studios projects and educational experiences.
"The Sandbox is often viewed as a 'virtual Manhattan,' a vibrant space alive with culture, entertainment, and brands, where anyone can discover, learn, work, meet new people, play, dance, and find amazing new opportunities. By partnering with TIME, we're adding TIMEPieces as the beating heart and soul of this virtual Manhattan, where a design call for a virtual architect will be held in TIME Square, a place in our creative metaverse for brands and creators", said Sebastien Borget, COO and Co-Founder of The Sandbox.