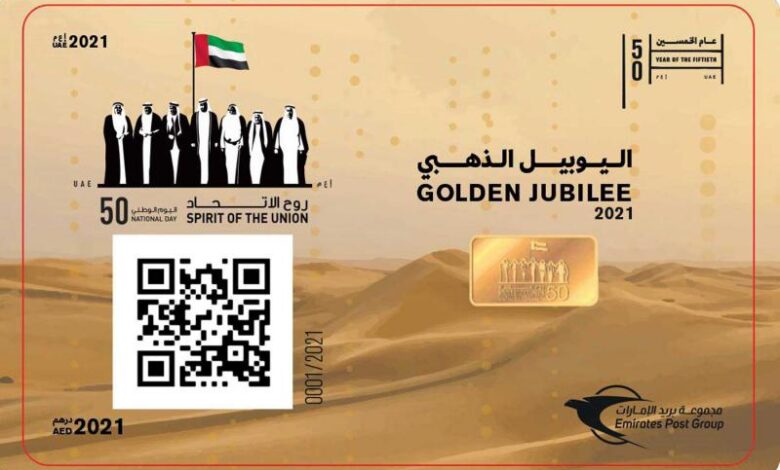 Known as the global blockchain hub, The UAE has launched the world's most expensive modern postage stamp, in commemoration of the country's 50th National Day, making Blockchain a key part of UAE's business strategy.
Emirates Post Group launched the region's first NFT stamps, a new generation of stamps that have a digital counterpart in the blockchain.
The project consists of four editions, where the physical stamp has a digital twin that can be collected in a digital crypto wallet.
The most expensive edition is the "Golden Jubilee 2021", the premium edition that celebrates the Golden Jubilee of the formation of the United Arab Emirates and that contains a 1-gram fine gold bar. 
The design portrays the UAE desert landscape and invokes the journey of the founding fathers, starting from meetings in the desert to forming the country of the future.
It is important to note that this edition includes 2021 pieces, and amounts to 2021 AED ($550 USD).
The second stamp is called the "Spirit of the Union — 1971," which symbolizes the establishment of the UAE by the founding fathers.
As for the third stamp, it is "Year of the 50th — 2021", and the fourth is the "Projects of the 50th 2071," which represents the futuristic vision of the UAE.
The other three collections are cheaper, and each nonfungible token (NFT postage stamp) costs around 250 AED ($68).