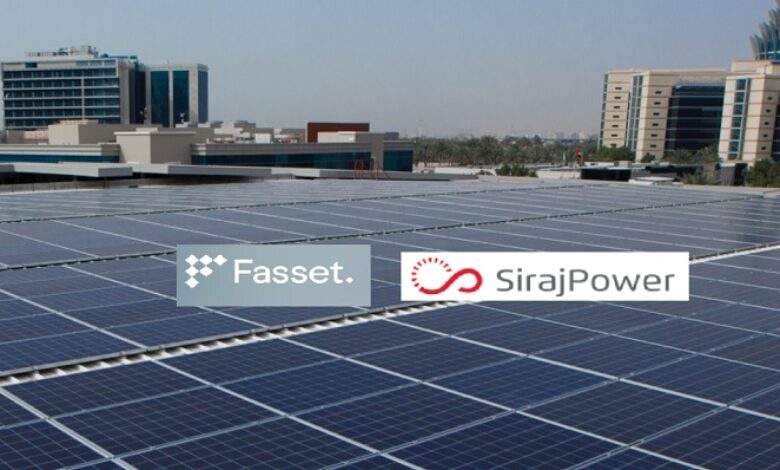 UAE based Fasset, a digital asset exchange and provider of real world asset tokens, operating out of DMCC ( Dubai Multi Commodities Centre) will tokenize solar energy assets of UAE's SirajPower's. This initiative is the first of its kind in the UAE and MENA region.
Fasset digital asset exchange signed an MOU ( Memorandum of Understanding) for cooperation with Creek Capital, a Dubai Financial Services Authority (DFSA) regulated asset manager, recognized for its pioneering investments into the Energy Transition in the Middle East region. This strategic initiative will include working closely with SirajPower, a portfolio company of Creek, which is one of the largest solar distributed generation players in the region. Fasset will work with SirajPower to accelerate the growth of the solar industry in the Middle East by tokenizing solar energy, and introducing an alternative and innovative investment solution for sustainable power assets.
To achieve these shared objectives, Fasset will enable the tokenization of SirajPower's solar assets in the which will serve to democratize sustainable investment opportunities to a broader pool of investors.
Leveraging blockchain technology, Fasset is fractionalizing previously illiquid infrastructure assets, namely, solar assets, where each token represents a digital fractional ownership of SirajPower's solar project. Offering investors the opportunity to access these assets at a lower minimum ticket price and creating unprecedented market liquidity, this collaboration will reduce barriers to entry to invest in low-risk and high-yielding asset classes.
Chairman of SirajPower, Mohammed Abdulghaffar Hussain, said: "Since securing US$50 million in funding in 2020 and with ongoing plans to raise a further US$250 million to expand our footprint in the Gulf, SirajPower has been at the frontier of renewable energy in the Middle East and our rapid growth is a testament to the region's potential in the sustainable power sector. With the accelerating threats of climate change, we are proud to play a key role in shaping the growing solar sector in the Gulf region and to contribute to Fasset's vision of championing ESG efforts, fast-tracking the Middle East's green initiatives for a more sustainable future."
Speaking on the initiative, David Auriau, Managing Director at Creek Capital, said: "We are thrilled to be working with Fasset, especially as the UAE emerges as a leader in ESG development and digital economy. We believe that this first-of-its-kind initiative is incredibly timely as the Executive Council announced last year the Dubai Strategic Plan 2030, focusing on innovation-led growth and echoing the United Arab Emirates Vision 2021's commitment to sustainability. With local authorities prioritizing forward-thinking and innovation, we are proud to contribute to the recognition of the UAE's vision of greener, more sustainable growth."