Companies
Global News
MENA News
Reports
Majority of KSA & UAE respondents in Checkout.com survey believe in crypto for payments
42 percent of UAE respondents still had no idea how to even buy a digital asset.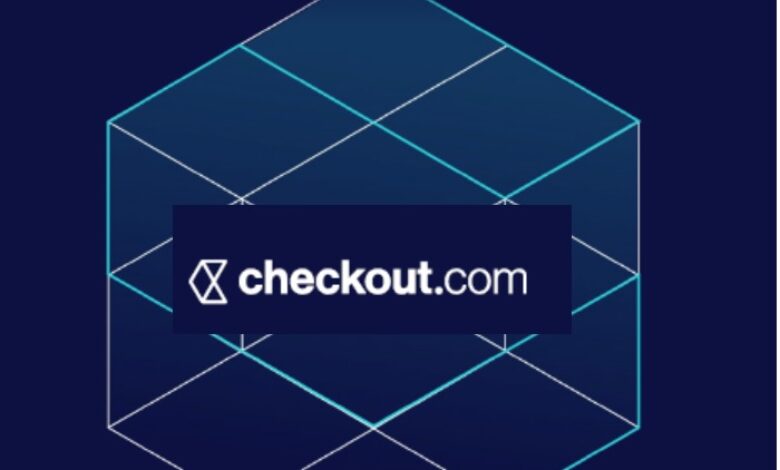 Checkout.com recently published "Demystifying Crypto Shedding light on the adoption of digital Currencies for payments in 2022" survey report. UAE and KSA had the highest percentage of respondents who believe that crypto should be used as a mode of payment, yet 42 percent of UAE respondents still had no idea how to even buy a digital asset.
The Demystifying Crypto survey report also notes the embedded fear in the risky nature of crypto. Almost 83 percent of those surveyed between the ages of 18 and 35 believe that crypto is risky. Yet, 40% of those surveyed between the ages of 18–35 say they would like to pay for goods and services with crypto during the course of 2022.
Interestingly the report notes that 42 percent of respondents in UAE said they don't even know how to buy a digital asset. This reflects the nascent nature of crypto in the region as well as the complexity that crypto still holds.
More than $2.5 billion worth of crypto payments were made through Visa's crypto-backed card in the first fiscal quarter of 2022. Those merchants that embraced cryptocurrency payments experienced net-new growth, with 82% saying those options allowed them to rapidly attract new customers and reach new demographics.
In the Demystifying Crypto survey the percentage of those aged between 18-35 who paid for goods and services on the dark web in the past 12 months has gone down. Notably only 10 percent of those surveyed in this age group in KSA (Kingdom of Saudi Arabia) used crypto for goods and services in dark web, while the number is 9 percent in UAE (United Arab Emirates). The numbers are similar in China, USA, but 50 percent lower in Singapore Spain and UK and elsewhere.
Strikingly respondents from the UAE and KSA showed the highest interest in having cryptocurrencies used as a currency and not just an investment asset. UAE and KSA lead the rest of the world on the question of whether crypto should be used for payments. 54 percent in both UAE and KSA believe it should be used for payments in comparison to 40 percent in Hong Kong and Singapore, 29 percent in Australia, and 36 percent in USA. This actually shows the openness in the region for crypto payments in comparison with the rest of the world.
Regardless of age the majority of respondents believe there is a lack of knowledge in crypto when it comes to security and blockchain technologies. 87 percent of respondents between age 18-35 don't believe crypto and Blockchain are surplus technologies to consumers, while 37 percent believe the technology makes payments faster. The majority of the more experienced crypto holders believe that blockchain makes payments safer.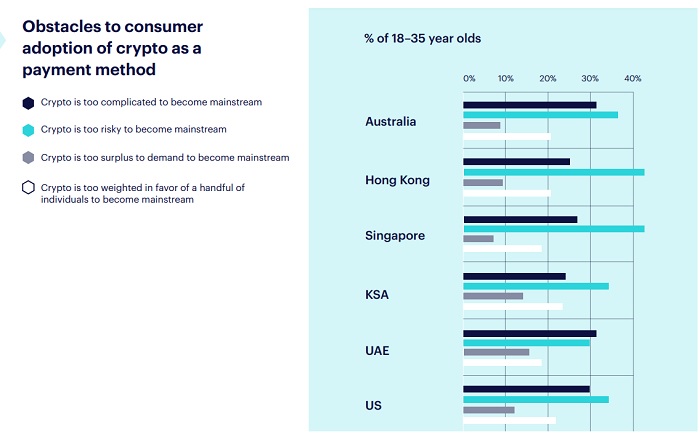 Another interesting find in the survey is how Chief Financial Officers and treasurers felt about settling payments in stablecoins. 34 percent of CFOs and treasurers want to settle payments in stablecoins compared to just 26 percent in UAE.
In addition more than 50 percent of companies surveyed say their employees have asked to be paid partly in crypto. The highest demand for crypto salary options comes from Hong Kong, Saudi Arabia, and UAE. Moreover in KSA 58 percent want to be in stablecoins versus 39 percent in crypto. In the UAE the percentage is slightly lower with 44 percent wanting to be paid in stablecoins versus 39 percent in crypto.
Various surveys have been coming out in the region showcasing the increased interest in crypto. Last week YouGov survey noted that two thirds of UAE residents want to invest in crypto. While a Ding survey in December 2021 showed that 10 percent of KSA residents hold crypto.