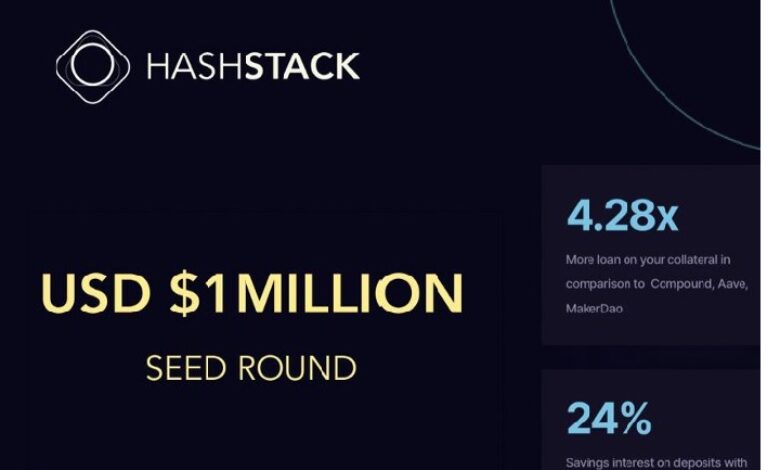 UAE Ghaf capital has invested in DeFi platform Hashstack. The DeFi platform that leverages its open Protocol to disrupt the DeFi lending market. Hashstack has secured $1 million seed funding from numerous crypto and blockchain venture capital firms.
Shortly after the launch of its Open Protocol testnet, Hashstack based in India, had successfully closed a $1 million seed funding round. The project aims to use the funds toward developing the Open Protocol, attract top talent, and foster the community.
The seed round witnessed participation from several well-known investors in the crypto circles such as UAE GHAF Capital Partners, Moonrock Capital, Kane & Rao Group, Nimrod Lehavi, MarketAcross, and Chainridge Capital.
What Is Open Protocol?
Hashstack Finance's Open Protocol is the only autonomous lending solution in the DeFi space that allows users to take non-custodial, under-collateralized loans with up to 1:3 collateral-to-loan ratio. In simple terms, it means that users can borrow up to $300 by providing only $100 as collateral. Of this, they can withdraw $70 (up to 70 percent collateral), while utilizing $230 as in-platform trading capital.
Most of the DeFi protocols today require over-collateralization. Haskstack aims to change the game by offering the users a glimpse into the future of DeFi lending. Open Protocol caters to all users demands via instant under-collateralized loans, be it personal cash needs, leveraged investments in IDOs, or trading capital.
Hashstack seamlessly integrates with other DeFi solutions such as PancakeSwap to enable in-app market swaps to improve loan utilization.
UAE Ghaf Capital has been investing in blockchain startups for sometime. It has invested in Web3Escrow protocol, NFT Startup Mars4, as well as others.