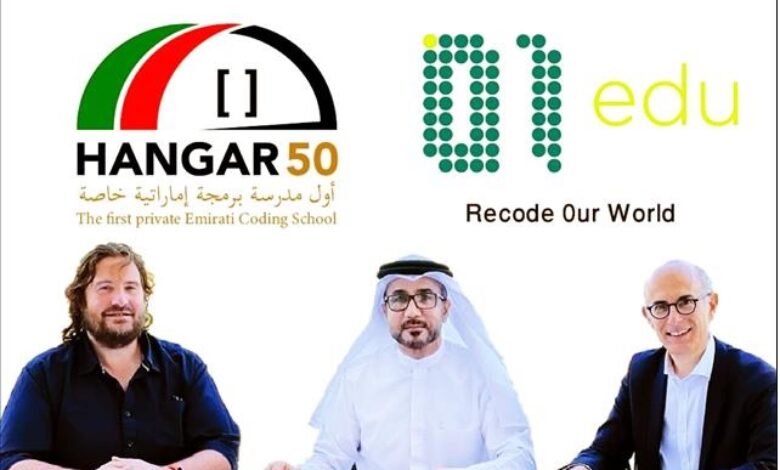 UAE Hangar50, Coding School signs MOU with 01Edu to set up and operate a white-labelled Coding School using the 01Edu pedagogy, a platform for revolutionary teacher less coding schools.
The MoU was signed by Ghanim Mubarak Al Hajeri, Hanger50 founder, and David Sultan, Global Chief Operating Officer of 01 Edu, in the presence of many senior officials from both sides.
Under the deal, 01Edu will advise and support Hanger 50 in the implementation and operation of the code learning platform and provide technical support for its use and implementation. 01Edu will also be bringing advisory services to Hanger 50 for the operational setup and launch of the Coding School by sharing its experience and technical know-how, in all phases of the contemplated project, until the implementation of the Coding School.
The MoU will support both sides' efforts to play a vital role in designing a better future for humanity and future generations in line with the UAE's vision and strategy for the next fifty years, the UAE Centennial 2071 and Ghadan 21, Abu Dhabi's accelerator programme, which was launched by His Highness Sheikh Mohammed bin Rashid Al Maktoum, Vice President, Prime Minister and Ruler of Dubai.
The agreement is set to strengthen the UAE cadres' presence in the coding sector, in addition to creating a new generation of Emirati coders who can launch their own businesses to support the national economy.
The project will also support the National Programme for Coding, launched by His Highness Sheikh Mohammed bin Rashid Al Maktoum, Vice President, Prime Minister and Ruler of Dubai, to train and attract 100,000 coders and establish 1,000 digital companies in 5 years, Al Hajeri said.
The project will target the 15-55 age group, and enhance collaboration with the United Arab Emirates University (UAEU) and the Mohamed bin Zayed University of Artificial Intelligence. It will feature a program that lasts for 24 months. Students will go through a 4 weeks selection boot camp and the top 250 will be recommended for a two-year program. After 18 months, students will become Full Stack Developers followed by a specialisation in AI, Blockchain or Gaming. According to Al Hajeri, the plan is to have fifty Hangar 50 schools across the UAE by the end of 2025.
For his part, Nicolas Sadirac, 01Edu co-founder and Chief Pedagogy Officer, stressed 01Edu's keenness to offer all forms of support to Hanger 50, adding that the platform will provide a 100% digital, teacherless, on-campus program that sources and trains the best tech talents.
UAE has been actively working to build its coder skill set in the country, whether working with the youth