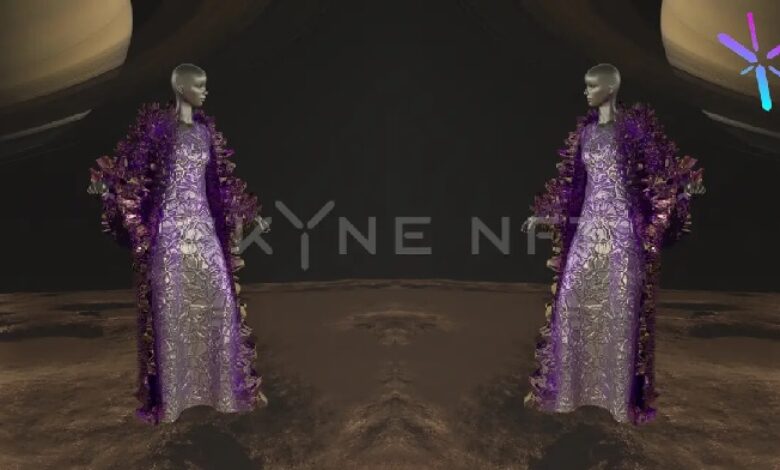 World-renowned haute couture designer, Ilja Visser and the MENA SkyneNFT launched world's first abaya NFT in the UAE. The NFT collection included 50 unique abayas, that represent a landmark moment in digital-exclusive couture for Arab fashion. The unique abaya NFT is traceable, tradeable, wearable, and a collectible piece of modest digital fashion. The launch was hosted in collaboration with Dubai Global Connect.
Ilja Visser and SkyneNFT have designed a fashion NFT collection that seeks to empower women worldwide by featuring entirely unique runway items dedicated to Arab fashion. Encouraging women to be unapologetic, strong and comfortable in their own beauty, these exclusive NFTs embody the pinnacle of women's high-end fashion.
Dutch-born designer Ilja Visser first launched her namesake couture collection in 2005. International recognition came after Ilja Visser showed her collection at Amsterdam Fashion Week. Ilja Visser made her official debut in the highest fashion league when she got invited by the Fédération Française de la Couture in Paris to present her Fall-Winter 15/16 couture collection INGENIUM EXISTERE on their official haute couture calendar. World-famous people bought her couture: Lady Gaga, Kourtney Kardashian, Avril Lavigne, Alicia Keys and Janet Jackson to name a few.
Creating, refining and transforming businesses is what we do everyday. NFTs are going to become integrated into nearly all aspects of our lives, offering businesses opportunities to grow and expand beyond stores and social media platforms. NFTs are becoming an integral part of marketing, branding, and sales and increasingly popular in the realm of the digital marketing world. SkyneNFT exists to deliver successful NFTs for ambitious brands that are eager to expand and grow their business in creative ways, utilizing blockchain technology.
Ilja Viser is not the first in the region to launch a fashion NFT Collection, prior to this Lebanese Fashion designer Rami Kadi launched his NFT Collection. This was followed with another release of an NFT Designer collection from Sawwad Tech fashion brand.