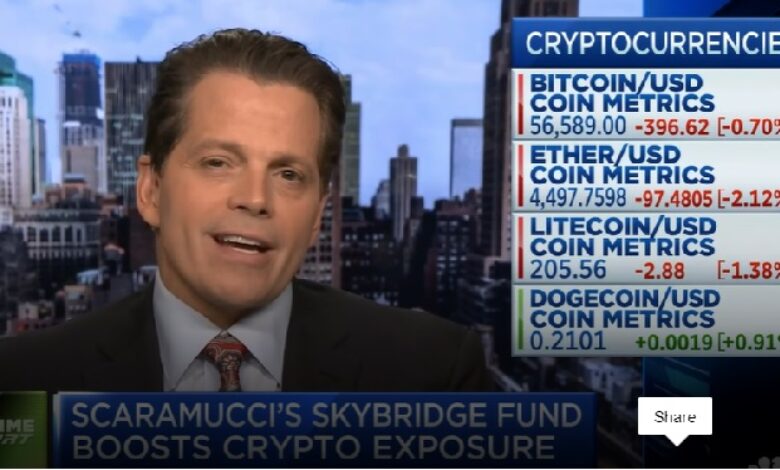 In a recent interview with CNBC, Anthony Scaramucci, Founder and Managing Partner at SkyBridge Capital announced that he will be launching a 200 million USD crypto fund out of Abu Dhabi UAE in December 2021. SkyBridge Capital's exposure to crypto has increased significantly, with capital invested in crypto assets exceeding $ 1 billion.
SkyBridge Capital's crypto exposure increased by around 150% during the third quarter, with details showing that the company's crypto hedge fund added $ 300 million in the three months ending September 30, 2021.
Asked about the massive exposure of CNBC's "Halftime Report", the former White House communications director put it down to the run of Bitcoin during the quarter and the interest it generated among investors as they searched for a vehicle in the investment space.
Scaramucci stated that SkyBridge's total invested assets, are currently around $ 9 billion, with 1.3 billion USD of that in the crypto asset class. Scaramucci said the company's exchange-traded product CRPT, a publicly traded crypto ecosystem ETF, is another reason the fund has seen massive spending in recent months.
He then added that SkyBridge will be going to Abu Dhabi next week to launch a $200 million cryptocurrency fund, that would have some components of private equity and some components of coins. UAE recently witnessed the launch of a 200 million Bitcoin Fund out of Dubai UAE.
He noted that SkyBridge launched a 100 million USD Algorand Fund, as SkyBridge team believes it has the potential to flip Ethereum because it is faster, net negative carbon footprint, with lower transaction fees. In his own words, he stated, "Algorand is something that we invest a lot of money and resources in."
Even in the UAE blockchain funds have been launched. The UAE BASED Digital Finance Group had launched a 20 million USD fund for Polkadot, while some UAE crypto funds have invested in gaming.