This is not another NFT story but rather a startup that is making use of blockchain and tokenization in the real world and in a mainstream industry, the industry of brands and celebrities. It is launching a celebrity token launchpad that will strengthen brands celebrities and their relationship to their fans.
The Founder of Bonuz Brand Celebrity Token Market is an entrepreneur who started working when he was nine years old, and who has since then built businesses for more than 20 years. In 2016 his journey into the Blockchain and tokenization realm started with Bitcoin and ever since he has been a passionate advocate of Blockchain and a fundamental believer in the long term value that this technology will play.
Living in Dubai UAE since 2007 Matthias Mende, who at one point worked as Chief Strategist with UAE Blockchain turnkey solution provider, Block Gemini is currently an advisor at the Dubai Blockchain Center in UAE, and the Founder of Bonuz Market.
Today his one and only focus is Bonuz. As he explains to UNLOCK, "Bonuz is a celebrity brand token Launchpad that is trying to make life easier both for fans, brands and celebrities. I am utilizing the strong built connections that I have availed given the marketing and digital company I built several years back called MEMMOS."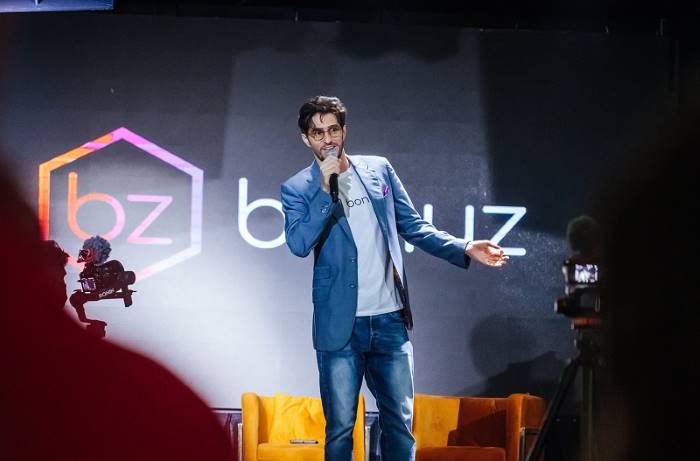 Memmos which was launched in 2011 facilitates social media marketing and growth hacking strategies to increase traffic, leads and simply business for the clients. Mende worked with high end food venues, night clubs and the entertainment sector in the UAE, and this gave Mende an open invitation to meet celebrities from across the globe.
Bonuz Celebrity Brand Token Launchpad
Currently Mende is signing MOUs as well as preparing contracts with brands, celebrities and other technology partners. The fans of these celebrities and brands will have access to a private channel and access to content as well as conversations with their celebrity and brand that others are not privy too. In addition this will also benefit brands and celebrities. Mende explains, " So while fans will for example get to hear a song before it is launched, or get tickets to attend an event and other perks, celebrities will have access to not only the data of these fans but also the ability to poll them and gain better insights into their fan base." Former German National Player Kevin Kuraniy joined Bonuz as advisor and Teeny Star Lukas Rieger is just one of the signings.
Fans will be able to browse celebrity or brand stores where limited edition merchandise are sold, and purchase these items at a discount. The community can even propose designs and earn royalties on each item sold. Given that each respective celebrity token has a governance functionality, this will allow fans to vote on their favorite merchandise that they want to get sold in the celebrity store. Additionally they can answer or pose questions or vice versa with celebrities whenever the celebrity feels like interacting in the private channel.
In short celebrities can now own the relationship with their audience whilst fans get rewarded for their engagement too.
Bonuz Built on Solana Blockchain
The Bonuz Market eco-system is built on Solana Blockchain and the Bonuz Token itself is on Binance Smart Chain, yet according to Mende they are developing bridges allowing them in the future to be on Polygon Blockchain and others. Bonuz is aiming to launch 100 Celebrity Tokens over the first year and 1000 Celebrity Tokens by the third year. A fan that'll own a celebrity token will be known as a Celebrity Token Holder (CTH).
He adds, "In the future we could create Avatars of celebrities in the Metaverse and they could then serve their fans as teachers, specialists or anything we find a matching use case for the respected celebrity or creator."
Successful Start
Bonuz Market has already had a successful launch, It took less than 4 hours for the first round of the $BONUZ presale to be successfully completed
Mende initially gave the opportunity to his own followers and fans which been insisting once they learned on social media that Mende started his own project. The first initial round on the 7th of July 2021 was dedicated to the community, friends and the early followers; hence there was no marketing necessary. The early seed birds as everyone elses Tokens are fairly locked up for two years. Over 1% of the Token supply sold out at a Token Valuation of 25M million USD.
Reputable Key Opinion Leaders like Davinci Jeremy, Carl from the Moon, Chris MMCrypto and others already secured their allocations in the ongoing private round. A public sale is under preparation for middle November 2021 and a brand new website has just been released where more information can be found and the growing Bonuz community can join.