Featured
UAE Sheesha Finance invests in Marhaba DeFi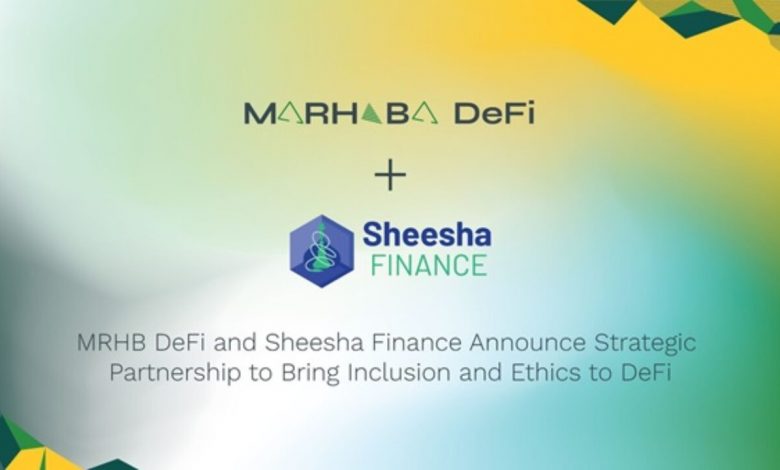 UAE Sheesha Finance invests in Islamic (DeFi) ecosystem Marhaba DeFi ( MRHB DeFi). As per the press release, UAE based Sheesha Finance partnership with Marhaba DeFi will include a strategic investment from the DeFi mutual fund to MRHB DeFi for an undisclosed amount. The partnership will also see both parties collaborate alongside mutually beneficial initiatives that align with and promote Islamic Finance business practices. In addition, MRHB DeFi stands to benefit from the premium network and connections of Sheesha Finance.As an early investor and supporter of MRHB DeFi, Sheesha Finance fully recognizes the vision, ambition and potential of the faith-based DeFi project, as well as its first-mover advantages in the DeFi space.
"As a decentralized fund we're always on the lookout for like-minded projects and ideas that are looking to advance ethical finance and decentralize finance more. We're very excited to have partnered with Marhaba, a unique value proposition in DeFi, who are doing that, and a lot more," says Sheesha Finance CEO Saeed Al Darmaki.
MRHB DeFi Founder & CEO Naquib Mohammed adds, "Sincere thanks to the Sheesha team led by Mr Saeed for this strategic investment and partnership opportunity. We are delighted to have Sheesha Finance as one of our early supporters and partners and are absolutely looking forward to utilizing the team's crypto and DeFi market expertise and experience. This partnership with Sheesha Finance will open new avenues for growth and expansion for MRHB DeFi across its network."
MRHB DeFi has been developed as an inclusive DeFi ecosystem that allows people of all faiths with an 'ethics-first' stance to benefit from the opportunities available in the decentralized digital asset sector. Complying with the central beliefs governing Islamic finance, MRHB DeFi follows ethical financial and business principles that avoid interest, usury, exploitation and other business practices deemed unethical. Recently MRHB DeFi partnered with Indian crypto exchange CoinsBit
MRHB DeFi is committed to providing exceptional decentralized financial services all within a Shariah-compliant framework, allowing its community to participate in a booming sector while still adhering to the key tenets of their faith.
Founded by investment and finance expert Saeed Al Darmaki, Sheesha Finance is a decentralized mutual fund that provides investment solutions for crypto portfolio diversification and rewards across the DeFi space, which currently has a total value locked (TVL) of USD 162 billion.
Sheesha Finance has backing across the investment space from Alphabit and Galaxy Digital, led by a team of top cryptocurrency and digital asset experts including David Namdar, a founding partner of Galaxy Digital, and Michael Terpin CEO of Transform Group, among others.