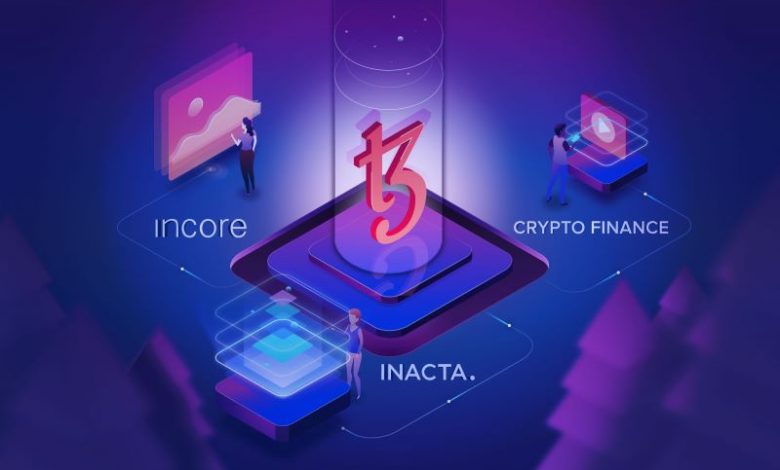 Crypto Finance Group, InCore Bank, and Inacta have chosenTezos Blockchain platform forcompliant onchain digital financial products. Crypto Finance, InCore Bank, and Inacta have developed a new Tezos token standard for asset tokenisation based on the Tezos FA2 standard.
InCore Bank announced has also launched an institutional-grade storage, staking, and trading services for Tez (XTZ), the native cryptocurrency of the Tezos blockchain. Tezos is an open source Proof of Stake blockchain network that offers security, reliability, and speed for the next genera- tion of financial services products.
The DAR-1 token standard on the Tezos blockchain enables smart contracts that provide all of the functions necessary to support financial markets, from anti-money laundering regulations to asset governance. The DAR-1 token standard was developed by Inacta, digitisation experts for technology and finance ser- vices. The launch is enabled by Crypto Finance, a leading provider of institutional and professional investor products and services for digital assets, and InCore Bank, a business-to-business transaction bank.
"This work by Crypto Finance, InCore Bank, and Inacta is a tangible example of how FA2 on Tezos broadens the potential for tokenisation significantly." Stijn Vander Straeten, CEO of Storage Infrastructure with the
Crypto Finance Group, adds, "The launch of these Tezos use cases for the financial sector make innovative, compliant on-chain financial products a reality today."
Tezos was chosen to power the new token standard for asset tokenisation because its on-chain governance allows upgrades without disrupting or splitting the network. This is highly attractive to financial services providers, who will be able to implement seamlessly and offer staking and future innovations directly to their clients. This collaboration of leading Swiss blockchain and financial players enables banking designed for the future, minimising legacy issues that imply additional costs and compromises.