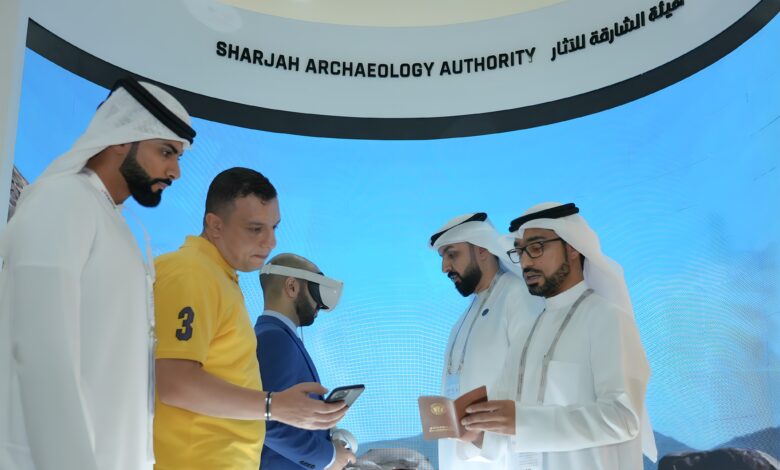 As part of its participation at GITEX Global 2023 within the Sharjah Government Pavilion, the Sharjah Archaeology Authority unveiled 'Sharjah Archaeology in the Metaverse,' a groundbreaking and first-of-its-kind project in the region among cultural heritage institutions.
Seeking to foster cultural diversity across global civilisations and in Sharjah through the seamless integration of artificial intelligence, augmented reality, and virtual reality in the metaverse, the Authority is highlighting two pioneering initiatives, the 'Archaeology Centre' and the 'Jabal Khatm Al Melaha Archaeological Trail,' in line with the emirate of Sharjah's commitment to offering cutting-edge academic and cultural content based on the latest research and archaeological findings, encompassing both tangible and intangible heritage.
The Archaeology Centre serves as the repository for the most significant archaeological treasures excavated in the emirate of Sharjah. Within this facility, visitors gain access to these invaluable artefacts through the metaverse and are able to manipulate and closely examine these historical treasures from a multitude of angles. Additionally, the platform fosters real-time discussions and interactive engagements among visitors and other participants connected to this extraordinary virtual space.
The Khatm Al Melaha Archaeological Trail boasts more than 120 rock inscriptions that trace their origins to the Neolithic Age. Users can take a virtual tour of this historic mountain trail in the metaverse and explore diverse inscriptions, including depictions of various animals, such as mountain and Nubian ibexes, wild donkeys, snakes, Arabian tahrs, as well as intriguing footprints and symbols of the sun. These inscriptions are thoughtfully colour-coded to enhance the user experience for convenient identification and interpretation.
The immersive journey through the Khatm Al Melaha Archaeological Trail goes beyond mere observation. In the metaverse, users can witness a detailed simulation of the individuals who crafted these ancient rock engravings and the tools that were utilised, gaining insights into past techniques. This captivating journey culminates at the mountaintop, where an incredibly lifelike recreation of ancient dwellings stands, meticulously based on the rocky foundations of the original houses. Visitors are transported back in time as they witness the daily routines and activities of the former inhabitants, brought to life through stone archaeological artefacts unearthed during excavations at the Khatm Al Melaha archaeological site.
This groundbreaking project holds immense significance as it strongly emphasises Sharjah's rich civilisational contributions and vibrant cultural diversity, achieved through cutting-edge global technologies. This initiative fundamentally embodies the Sharjah Antiquities Authority's profound belief in the potency of human cultural heritage, serving as a pivotal conduit for fostering communication, bridging divides, and nurturing understanding among the diverse cultures and peoples spanning the globe. Above all, it stands as a resounding testament to the perpetual significance of safeguarding and disseminating our shared heritage within an increasingly interconnected world.