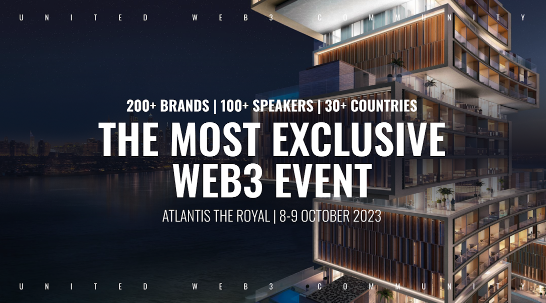 Join us for an exciting journey at WOW Summit Dubai 2023, the ultimate Web3 experience, hosted at the luxurious Atlantis the Royal in Dubai on October 8th and 9th, 2023.
WOW Summit Dubai 2023 offers a remarkable Web3 adventure with an impressive lineup of speakers and esteemed sponsors. This event isn't merely a conference; it's a voyage into the future of technology and innovation. 
Ivan Ivanov, Global CEO at WOW Summit, expresses his excitement: "WOW Summit Dubai 2023 is set to be a landmark gathering for Web3 and Web2 industry leaders, investors, and Government representatives. With our remarkable speakers and esteemed sponsors, we are shaping the transition from Web 2.0 to Web 3.0, showcasing real-life use cases of DLT and Blockchain technology, innovations in the financial infrastructure, Digital ID, and CBDCs."
He added, "Fastex, Unicoin, and Farcana, our Title sponsors, along with Platinum sponsors Darwinbit, iVendPay, MMPRO Trust, and Zima Bank, play a pivotal role in nurturing innovation and propelling progress within the dynamic blockchain industry. Their visionary leadership and expertise resonate throughout the event, guiding discussions on the transformative power of blockchain technology."
WOW Summit Dubai 2023 brings together distinguished leaders in the blockchain and digital assets sphere and esteemed government officials from the UAE.
WOW Summit Dubai 2023 distinguished speakers include Yat Siu, Founder and Executive Chairman at Animoca Brands, Dr. Marwan Alzarouni, CEO at Dubai Blockchain Centre, Mohammad Alblooshi, Chief Executive Officer at the DIFC Innovation Hub, Nameer Khan, Founder of FILS & Chairman MENA Fintech Association, Miriam Kiwan, Vice President, MENA at Circle, Mohamed Issa, Regional Director at Chainalysis, Sam Katiela, Founder & CEO at Mamemo and Chairman at Crypto Valley Partners, Joy John, AI Services Specialist, EMEA, Oracle and Scott Thiel, Founder & CEO at TOKO by DLA Piper and Jiten Varu, Head of Web3 at AWS. They bring a wealth of knowledge, experience, and vision to the stage, ensuring that attendees will be treated to profound insights and valuable discussions.
Additional notable figures include Michael Terpin, Serial Entrepreneur and Investor, Gurvinder Ahluwalia, Founder & CEO at Digital Twin Labs, Christian Gleich, Ambassador of the European Blockchain Association, Nick Spanos, Bitcoin Pioneer, Joshua Hawley, Managing Director at US Capital Global, Mansoor Madhavji, Blockchain Founders Fund and Saqr Ereiqat, Co-Founder at Crypto Oasis. 
Prepare to be captivated by WOW Summit Dubai 2023—an unmissable Web3 event that will define the future of blockchain technology.
Attendees can anticipate a unique experience filled with knowledge sharing, networking, and exploration of the cutting-edge developments in the Web3 ecosystem.