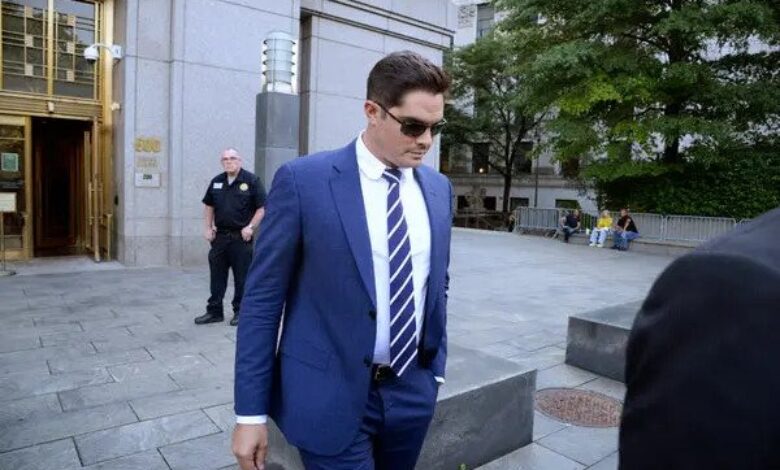 On Thursday, Ryan Salame, a former FTX executive of the now-defunct FTX cryptocurrency exchange, pleaded guilty to illegal campaign contributions amounting to tens of millions of dollars to U.S. politicians and involvement in a criminal conspiracy related to an unlicensed money transfer business. This marks the fourth instance of a senior figure from FTX or its affiliated entities admitting to criminal charges.
As part of a negotiated agreement with prosecutors, the former FTX executive has consented to forfeit assets valued at up to $1.55 billion. Moreover, he may be summoned as a witness to provide testimony during the trial of FTX founder Sam Bankman-Fried. Bankman-Fried was arrested in the Bahamas and subsequently extradited to the United States last year to face allegations of multiple crimes linked to his leadership of the popular digital currency trading platform.
Salame, aged 30, entered his guilty plea before a Manhattan judge, confessing that he had illicitly employed millions of dollars from a hedge fund overseen by Bankman-Fried to contribute to political campaigns for both Democrats and Republicans in 2020 and 2021. These contributions were intended to support political causes endorsed by Bankman-Fried.
A recently unsealed criminal complaint revealed private messages in which Salame communicated that Bankman-Fried aimed to back politicians from various parties who were favorable to cryptocurrencies while working to remove lawmakers opposing cryptocurrencies from office.
Jason Linder, Salame's attorney, did not respond immediately to a request for comment. Salame is tentatively scheduled for sentencing in March and has been released from federal custody until that time. He left the courthouse without speaking to reporters.
Bankman-Fried, on the other hand, is awaiting trial on charges of defrauding customers by diverting their funds to cover personal expenses, making unlawful campaign contributions, and conducting trades within a separate cryptocurrency hedge fund he established, Alameda Research.
Three other executives with close ties to Bankman-Fried, namely Caroline Ellison, Nishad Singh, and Gary Wang, have already admitted guilt. Bankman-Fried's trial is set to commence in October. He has pleaded not guilty but was recently incarcerated following a judge's ruling that he attempted to influence potential witnesses in the case, including by sharing Ellison's private writings with news outlets.
Before its collapse and declaration of bankruptcy in November, FTX was a prominent cryptocurrency exchange in the United States. The company had engaged celebrities like Larry David from "Curb Your Enthusiasm" for television advertisements.
Bankman-Fried and individuals associated with his ventures, including Salame, were substantial contributors to political campaigns, with Salame providing substantial financial support to Republican candidates.