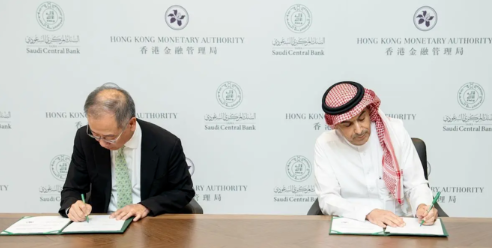 Hong Kong Monetary Authority (HKMA) and Saudi Central Bank (SAMA) have established a significant financial collaboration through a Memorandum of Understanding (MoU).
Building on their successful partnership with UAE Central Bank, HKMA aims to further enrich financial services and foster innovations.
On July 26, a bilateral meeting was held between SAMA and HKMA to bolster the integration of financial services between their respective countries.
Various initiatives were discussed, encompassing advancements in financial infrastructure, open market operations, market connectivity, and sustainable development. The central banks solidified their commitment to promoting collaborative discussions on financial innovation by formalizing the MoU.
During the meeting, authorities from Hong Kong and Saudi Arabia seized the opportunity to share knowledge and expertise in multiple domains, including tokenization, payment infrastructure, and supervision technologies.
Eddie Yue, the Chief Executive of HKMA, highlighted the significance of the MoU in enhancing mutual cooperation and facilitating the exchange of information and expertise between SAMA and HKMA in the realm of financial innovation and fintech. He expressed eagerness to collaborate with SAMA to encourage investment and foster financial market connectivity between the Middle East and Asia.
On another note, Hong Kong has actively pursued its ambition to become a major global crypto center. To achieve this objective, the region has introduced a comprehensive crypto licensing framework and virtual asset regulations, aimed at attracting and nurturing crypto-related businesses.
The crypto-friendly regulatory environment has proved highly enticing, prompting numerous crypto exchanges and companies to seek licenses in Hong Kong due to the growing demand for digital assets.
Hong Kong has also been actively involved in several cross-border tokenization projects. One notable example is in mid-June when BOCI, the investment bank subsidiary of the Bank of China, successfully launched a $28 million tokenized security within Hong Kong.
These tokens were created using the Ethereum blockchain and employed Goldman Sachs' tokenization protocol GS DAP, with each token representing a claim on the Hong Kong dollar.
The collaboration between Hong Kong and Saudi Arabia represents a significant milestone in strengthening financial ties and fostering innovation within the financial sector. The unfolding of this partnership is expected to have wide-ranging implications, not just regionally but on the global economic stage as well.
Nevertheless, it is worth noting that digital asset companies have found a welcoming regulatory landscape in the Emirates, leading to the issuance of licenses for numerous global and local cryptocurrency exchanges.
This favorable environment has propelled both Dubai and Abu Dhabi into becoming prominent global crypto hubs. Observing the success of the UAE in the crypto space, Saudi Arabia sees an opportunity for major Gulf economies to flourish in this domain. As a result, they aim to attract investment to Riyadh and emulate the UAE's crypto industry accomplishments.
Will this happen? Will this not? It will not take long before we know.