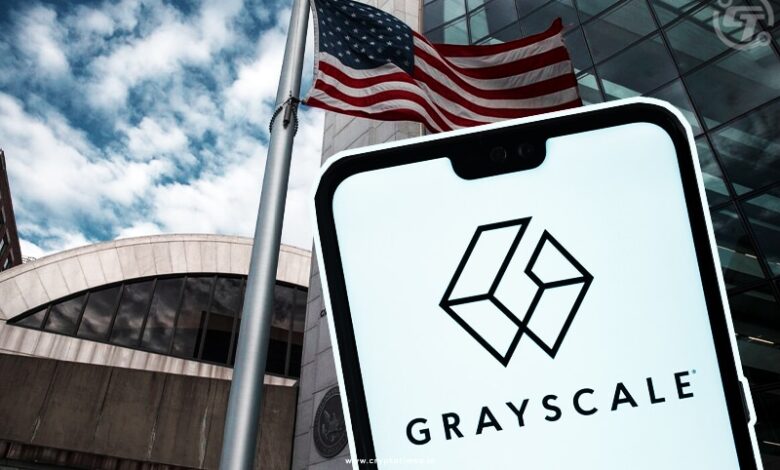 Grayscale has urged the Securities and Exchange Commission (SEC) to simultaneously approve all spot Bitcoin ETF applications.
The company expressed its support for this approach through multiple comment letters submitted on Thursday.
Craig Salm, Chief Legal Officer at Grayscale, emphasized that the SEC's handling of bitcoin ETFs should be fair and systematic. As a disclosure-based regulator, the SEC should avoid favoritism and not engage in selecting winners and losers, according to Salm's statement.
The Grayscale Bitcoin Trust (GBTC) manages more than $18 billion in assets and provides investors with exposure to the original cryptocurrency. However, the company has encountered repeated denials from the SEC when attempting to convert its flagship Bitcoin fund into a spot Bitcoin ETF.
A spot Bitcoin ETF is viewed as a significant step for institutional investors to gain Bitcoin exposure without the need to directly hold the cryptocurrency. It is perceived as a crucial milestone in fostering widespread Bitcoin adoption and confirming crypto's status as an asset class.
Recently, several spot Bitcoin ETF applications were submitted to the SEC, with BlackRock, one of the world's largest asset managers, leading the way. Other major firms like Fidelity, WisdomTree, and Invesco swiftly followed, potentially creating a competitive race for regulatory approval of these ETFs.
The SEC has been hesitant to approve a spot Bitcoin ETF for over a decade, expressing concerns about potential fraud and market manipulation. In the past, the regulator rejected applications from BlackRock and Fidelity, citing insufficient surveillance-sharing agreements for market monitoring.
Unlike futures-based ETFs, which are priced based on contracts traded on commodity exchanges like the Chicago Mercantile Exchange, spot-based ETFs would offer investors direct exposure to Bitcoin.
In response to the SEC's concerns, both Fidelity and BlackRock, along with other applicants, have refined their proposals. BlackRock is currently finalizing a surveillance agreement with Coinbase, a major cryptocurrency exchange, to address the regulatory requirements.
Under the proposed surveillance-sharing agreement, Coinbase would collaborate with Nasdaq to provide market data concerning orders and trades. Additionally, Nasdaq would have the ability to request information from Coinbase for the purpose of investigating potential market manipulation.
The SEC has already granted approval for several futures-based Bitcoin ETFs, including a leveraged one. Grayscale, however, has argued in court that these approvals should suffice for their case.
Salm, reaffirmed their position, asserting that Bitcoin's spot and futures markets are interconnected. Therefore, existing surveillance agreements that apply to products regulated under the Commodity Futures Trading Commission should be deemed adequate.
During a hearing in March, the judge presiding over Grayscale's lawsuit against the SEC seemed to show some understanding of the issuer's perspective, questioning the SEC's reluctance, which Grayscale views as arbitrary decision-making. Whether the SEC ultimately approves a spot ETF due to a court mandate or a shift in their position on the matter, Salm emphasized that it should be done fairly, benefiting all investors and issuers.
Grayscale has indicated its willingness to cooperate with regulators to secure approval for a spot ETF application.
They initially sought to convert GBTC into an ETF back in 2016, and Salm reiterated their eagerness to pursue this course of action. He stated that Grayscale is prepared to take any necessary steps to achieve the conversion of GBTC into an ETF.