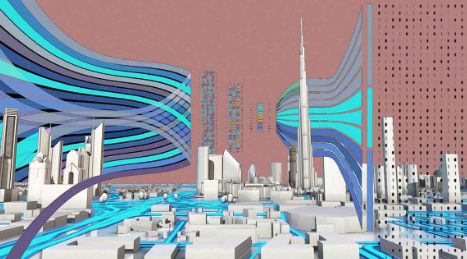 When H.H. Sheikh Hamdan bin Mohammed bin Rashid Al Maktoum, Crown Prince of Dubai and Chairman of The Executive Council, launched Dubai's new Digital Strategy, he unveiled an ambitious plan for turning Dubai into an international leader in the digital sector.
Centred on seven key pillars including the digital city, digital economy, data and statistics, digital talent, digital infrastructure, cybersecurity, and digital competitiveness, the strategy created a clear roadmap for Dubai's transformation into one of the world's top digital economies over the next decade.
Dubai's Legislative Frameworks for Digital Transformation
Underpinning all these pillars is an extensive set of legislative frameworks and judicial systems that Dubai has been building for years, which provide the perfect platform for its new strategic push to become the capital of the global digital economy. In fact, the UAE has been a pioneer in developing specialized legislations and judicial systems to accelerate digital transformation.
According to Ahmed bin Meshar, Secretary General of Dubai's Supreme Legislation Committee, "Dubai's visionary leadership recognized at a very early stage of its growth that robust legislative and regulatory frameworks are vital to delivering good governance, progress and prosperity.
The world-class legal institutions and frameworks created by Dubai have played a vital role in its growth into one of the world's leading destinations for investment, business, innovation, and technology.
Years of dedicated efforts, guided by sagacious leadership, have led to the establishment of a transparent legal framework that nurtures innovation, entrepreneurship and innovation, and provides local and international businesses with the safe and stable environment needed to thrive.
As Dubai emerges as one of the world's leading digital economies, the city's globally benchmarked laws and judicial systems have made sure investors, consumers and businesses can operate in a secure, supportive and reliable digital ecosystem."
Here are some of Dubai's most important laws and judicial initiatives that have helped transform the city into a digital powerhouse:
The creation of the Virtual Asset Regulatory Authority (VARA)
Dubai has launched the Virtual Asset Regulatory Authority (VARA), the world's only independent and specialist regulator for Virtual Assets to serve as the accelerator for a truly borderless digital economy.
Established pursuant to Law No.4 of 2022, Regulating Virtual Assets in the Emirate of Dubai, VARA is in charge of regulating Virtual Assets (VAs) and VA activities across Dubai, excluding DIFC. It also plays a central role in protecting investors and establishing international standards for VA governance.
It is worth noting that virtual assets regulated by VARA include cryptocurrencies such as Bitcoin and non-fungible tokens (NFTs). Moreover, VARA's regulatory oversight covers seven licensed virtual asset activities, including advisory, broker-dealer, custody, exchange, lending and borrowing, payments and remittance, and virtual assets management and investment services.
All Virtual Asset Service Providers operating in Dubai must be licensed by VARA.
The Issuance of Virtual Assets and Related Activities Regulations 2023
On February 7, 2023, VARA issued the Virtual Assets and Related Activities Regulations 2023, a comprehensive regulatory framework for Virtual Asset Service Providers in Dubai, excluding DIFC.
This Virtual Assets Framework is built on principles of economic sustainability and cross-border financial security, aiming to provide regulatory certainty and greater clarity on operator responsibility.
It mandates gold-standard risk assurance and anti-money laundering standards for licensed entities in the Emirate, advancing secure and sustainable market growth in the sector.
The framework aligns with Dubai's commitment to fostering a progressive virtual asset ecosystem that supports innovation and entrepreneurship in the digital economy.
The Creation of DIFC Courts
The DIFC Courts made a groundbreaking announcement last year by launching the world's first International Digital Economy Court.
This specialized court is dedicated to resolving disputes related to emerging technologies, such as big data, blockchain, AI, fintech, UAVs, 3D printing, and robotics.
Operated by expert judicial professionals, the Digital Economy Court seeks to enhance the adaptability of global companies and institutions in the digital economy to future requirements. Notably, in 2022, the DIFC Courts issued a judgment on one of the region's first cryptocurrency litigation disputes, addressing issues related to cryptocurrency transfers and custodial responsibilities.
It is worth noting that Dubai's ascent as a global hub for knowledge-based industries began with the visionary initiative of Dubai Internet City in 1999. This initiative laid the foundation for world-class technology, media, and design industry clusters, hosting leading digital economy companies like Microsoft, Oracle, IBM, Facebook, and more.
In addition to that, in 2002, Dubai introduced the Electronic Transactions and Commerce Law No.2, creating a legal framework for electronic transactions in the Emirate. This landmark law has facilitated the growth of electronic commerce and transactions and provided the necessary soft and hard infrastructure for the digital economy's success.
The Dubai Electronic Security Center (DESC), established in 2014, plays a crucial role in developing and implementing information security practices across the Emirate. Its comprehensive strategy combats cyber threats and protects Dubai from potential cybersecurity risks, ensuring sustainable economic development.
Dubai further solidified its position as a world-leading smart city with the introduction of Law No. (26) of 2015, which governs data dissemination and exchange in the Emirate. This law established robust governance rules, enhancing government services' efficiency and reducing operating costs while promoting Dubai's smart city development.
Regulation of Digital Services
In March, Dubai took another significant step in regulating the digital economy with the issuance of Law No. (9) of 2022, titled 'Regulating the Provision of Digital Services.'
This landmark law aims to enhance and elevate the quality of digital services offered in Dubai while supporting the Emirate's ongoing digital transformation journey, in collaboration with federal digital and data laws. Encompassing both government and non-government entities, the law outlines essential requirements for delivering effective digital services.
Dubai's remarkable capacity to establish a clear, transparent, and world-class legislative framework for the digital economy has been instrumental in stimulating investment, entrepreneurship, innovation, and technology adoption within the sector.
The Emirate's robust legal environment has fostered new business opportunities, attracted prominent global and regional players, and facilitated valuable public-private partnerships, contributing to the realization of Dubai's digital economy transformation agenda.
In light of these advancements and achievements, there is no doubt that Dubai has firmly positioned itself not only as a digital asset hub within the MENA region but also on the global stage and beyond. The city's visionary leadership, coupled with its robust legislative framework, innovative regulatory initiatives, and commitment to fostering a thriving digital ecosystem, has propelled Dubai to the forefront of the digital revolution.
With a strategic focus on digital transformation and a dynamic environment that nurtures innovation and entrepreneurship, Dubai is set to continue its remarkable journey as a trailblazer in the international digital landscape.