Companies
Global News
David Chaum Unveils AstroCool: A Groundbreaking Initiative to Combat Global Warming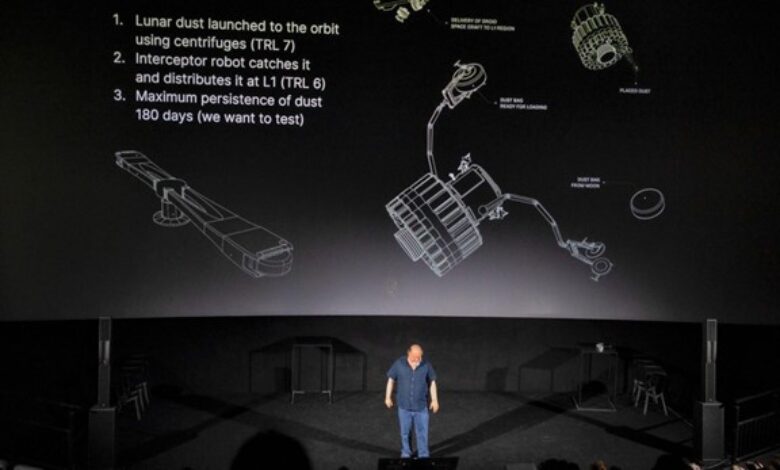 The AstroCool science research initiative was publicly introduced at the 'Festival of the Future' held at the Science Museum in Munich, Germany. Inventor David Chaum presented the emergency 'Plan X' initiative, which explores alternative methods to mitigate the effects of global warming. The initiative proposes mining lunar dust and launching it into a sunward orbit using centrifugal launchers and droid satellites. This would result in a reduction in insolation, thereby returning Earth to pre-industrial temperatures.
David Chaum explained that the moon's surface contains abundant dust particles, approximately 0.2 µ in diameter, which are ideal for blocking light. Calculations conducted by the founding team, including individuals experienced in space mission design, illustrate how the dust can be launched from the Moon, as depicted in the whitepaper.
Chaum further elaborated on the project's rationale, highlighting the potential industrial and economic benefits of extracting valuable elements from the lunar dust. He emphasized the advantages of the AstroCool approach compared to similar proposals, stating that any dust placed at the L1 Lagrange point between the Sun and the Earth would disperse within a maximum of six months and ultimately be vaporized by the Sun.
Other methods of shading the Earth from the Sun, such as aerosol spraying or injecting chemicals into the atmosphere, have limitations. Chaum mentioned that the three effective locations for shielding the Earth with dust or other materials are the troposphere, the top of the cloud layer, or the ocean surface. However, these options could lead to significant pollution. Alternatively, a near geosynchronous orbit could be used, resembling Saturn's ring, but this would be difficult to reverse. In contrast, AstroCool favors placing lunar dust at the L1 point, as it allows for incremental deployment, latitudinal variability, impermanence, and even blocking of light as the Earth rotates around the Sun, requiring less material.
David Chaum, the inventor of various privacy-enhancing technologies, including mix nets, blind signatures, and multiparty computation, has a background in pioneering secure communication and cryptography. He is currently leading the xx network, a private and quantum-secure decentralized messaging and payment platform. Chaum's involvement with the Bank of International Settlements (BIS) focuses on developing technologies for digital currencies. With his expertise and accomplishments, he has made significant contributions to the field of cryptography and digital privacy.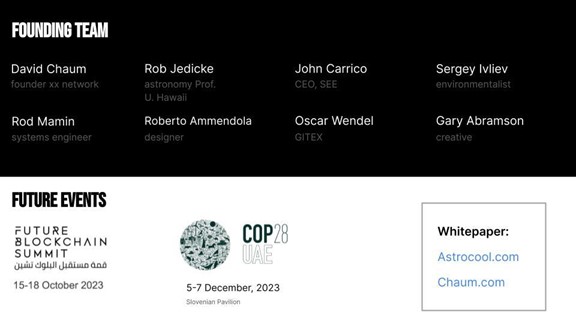 AstroCool will also be featured in the Climate Tech program at the Future Blockchain Summit, taking place from October 15 to 18 in Dubai Harbour. Additionally, it will be showcased at the Slovenian Pavilion during COP28, hosted by the Slovenian Ministry of Economy, Tourism, and Sport from December 5 to 7. These programs, announced at the UNFCCC conference in Bonn, are organized in collaboration with the UN Observer organization Climate Chain Coalition (CCC).