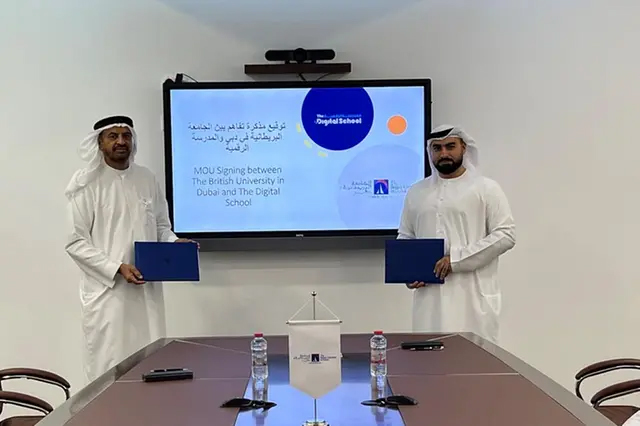 The British University in Dubai (BUiD) has signed an MoU with the Digital School. The MoU was signed at BUiD's campus by Professor Abdullah Alshamsi, BUiD's Vice Chancellor, and Dr. Walid Al Ali, Secretary General of the Digital School.
By leveraging the existing relationships between BUiD, the University of Nicosia, and the Dubai Blockchain Centre, the Digital School will gain reliable access to a diverse range of blockchain solutions.
The collective expertise of the parties involved will enable the development of sophisticated digital authentication and signature solutions for certificates. Moreover, the MoU includes the creation of a roadmap for certifying microcredentials and the establishment of robust digital portfolios for both students and teachers. This innovative certification approach will ensure interoperability and international verifiability, marking the beginning of a new era in educational excellence.
The two institutions aim to disseminate knowledge through joint efforts and enhanced cooperation in order to implement the Digital School's initiatives in spreading education and empowering students towards a brighter future.
BUiD is one of the leading not-for-profit research-based universities in the UAE, facilitating world-class education, training, and research. It provides an important and growing community and resource for young professionals, leading academics, corporate managers, and aspiring leaders of all descriptions.
The Digital School is the first integrated, digitally enabled school that provides digital and hybrid learning in a smart and flexible way. It provides learning models, processes, and materials that are compatible with national and international curricula.
The Digital School's initiatives aim to promote efforts to spread education through digital media and support the sustainable development goals for education. BUiD will be contributing to these initiatives by providing the expertise and training programmes supporting the initiatives' aim to educate one million students, especially those living in refugee camps, war zones, and disadvantaged communities around the world from 2021 to 2026.
Professor Abdullah Alshamsi commented, "We are very happy to be signing this MoU with the Digital School and supporting The Mohammed bin Rashid Global Initiatives Foundation by in the development and application of best practices and standards for digital learning while exploring areas of collaboration in conducting research in areas related to education and digital education."
The two parties will be collaborating in different areas of digital education where BUiD can provide learning paths, microcredentials, and educational content for teachers and students.
In 2017 with the support of the University of Nicosia, BUiD became the pioneering institution in the UAE and the third globally to issue blockchain-verified digital certificates to MSc and PhD graduates.