Government
MENA News
UAE Accelerates Government Excellence with Launch of Dubai Centre for Artificial Intelligence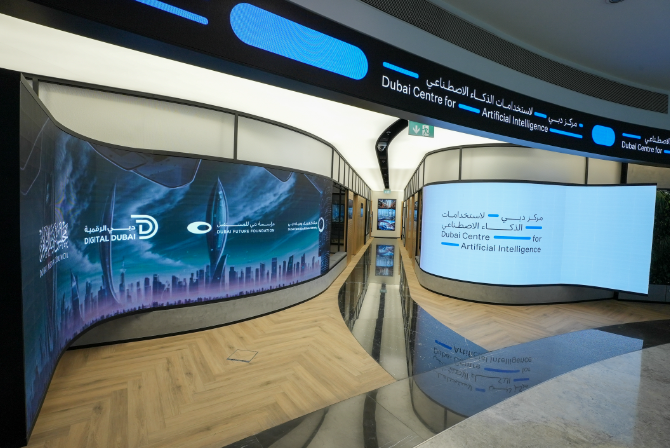 H.H. Sheikh Hamdan bin Mohammed bin Rashid Al Maktoum, the Crown Prince of Dubai and Chairman of the Dubai Executive Council, along with his role as the Chairman of the Board of Trustees of the Dubai Future Foundation (DFF), announced the inauguration of the Dubai Centre for Artificial Intelligence (DCAI) at Emirates Towers, AREA 2071.
The primary objective of this new center is to support government entities in the effective implementation of future technologies across crucial sectors.
Highlighting Dubai's unwavering commitment to adopting cutting-edge artificial intelligence (AI) and future technologies, H.H. Sheikh Hamdan emphasized the emirate's dedication to keeping pace with global technological advancements.
This aligns with the visionary leadership and directives of H.H. Sheikh Mohammed bin Rashid Al Maktoum, the Vice President, Prime Minister, and Ruler of Dubai, to position Dubai as a global frontrunner in proactively preparing for emerging opportunities, addressing challenges, and shaping the future.
H.H. Sheikh Hamdan explained that Dubai's government aspires to become the world's best in deploying AI across its various entities.
The establishment of the Dubai Centre for Artificial Intelligence marks the initial step toward achieving this ambitious goal while also developing future services that can effectively adapt to rapid technological advancements.
Encouraging employees across all government entities in Dubai, H.H. Sheikh Hamdan urged the adoption of generative AI tools to enhance productivity and optimize government services. He emphasized the aim of witnessing practical applications of generative AI technologies within the government sector.
The Dubai Centre for AI plans to provide training on the application of generative artificial intelligence to 1,000 government employees from over 30 entities.
It also aims to initiate numerous pilot projects, enhance government services, boost productivity among government employees, and provide support to more than 20 local and global advanced technology startups.
H.H. Sheikh Hamdan expressed confidence that the development of AI applications will play a significant role in realizing Dubai's vision for the future, as today's technological advancements are merely the beginning of an extraordinary journey towards a completely new future characterized by transformative changes in the fields of health, education, economy, media, and government sectors.
It is worth noting that the implementation of the Dubai Centre for AI's objectives and outcomes will be overseen by the Dubai Future Foundation, Dubai Electricity and Water Authority, Dubai Media Council, and Dubai Digital Authority in coordination with relevant authorities.
These entities will work together to focus on developing legislation pertaining to AI applications, attracting leading global technological solutions, and nurturing local talent.
The establishment of the Centre is well-timed, considering the projected growth of the generative AI sector from $10 billion in 2022 to $110.8 billion by 2030, with a compound annual growth rate of 34.3 percent.
By 2025, generative AI is expected to contribute to 10 percent of all generated data. Moreover, within the next two years, it is anticipated that over 30 percent of new drugs and materials in the healthcare domain will be systematically discovered through generative AI techniques.