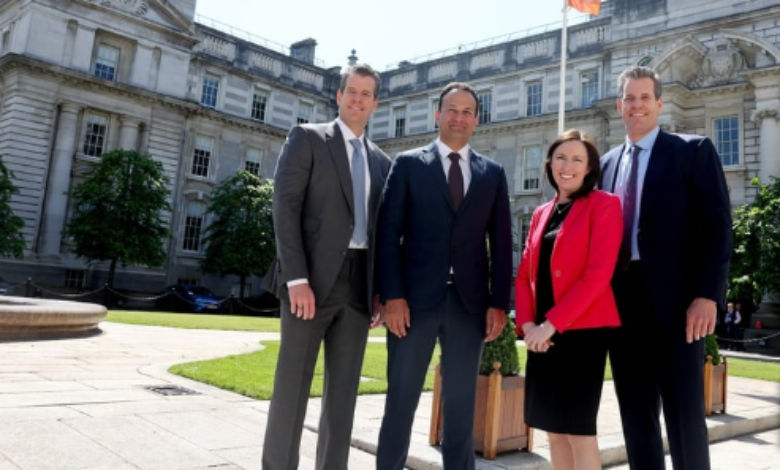 Gemini, a prominent crypto exchange founded by Cameron and Tyler Winklevoss, has decided to establish its European operations headquarters in Dublin, Ireland.
This move aligns with the trend of crypto companies seeking expansion opportunities beyond the United States.
During a meeting with Ireland's Prime Minister Leo Varadkar, the Winklevoss twins expressed their reasons for selecting Ireland as the base for Gemini's European growth.
They cited Ireland's strong regulatory system, abundant talent pool, and well-established technology community as key factors.
Research conducted in August 2022 indicated that approximately 10% of surveyed Irish adults held cryptocurrency, although this percentage had decreased from 12% during the bullish market of 2021.
It is worth noting that the head of the Irish central bank called for a ban on crypto advertising in January.
Despite these factors, numerous crypto companies, including Binance and Kraken, as well as various blockchain and fintech startups, have chosen to establish their presence in Ireland, indicating a growing interest in the region's crypto industry.
According to Cointelegraph, Varadkar expressed the significance of Gemini choosing Dublin as its European base, highlighting the government's focus on innovation as a catalyst for economic growth. Cameron Winklevoss, in his statement to the press, emphasized Ireland's role as their entry point into the European Union (EU).
After carefully considering various potential EU locations, the Winklevoss twins felt confident and comfortable with Ireland due to factors such as the regulator's (CBI) reputation, the technology community, the talent pool, and the overall ecosystem. This alignment made Ireland an obvious and natural fit for Gemini's expansion plans.
Gemini already maintains an office in Dublin with 12 employees and obtained a virtual asset service provider license from the Central Bank of Ireland in July 2022.
The company intends to expand its team further in response to the adoption of the new Markets in Crypto-Assets regulations (MiCA) by the EU, which gained official approval on May 16.
The twins anticipate a significant boost to the crypto industry as a result of the regulatory framework, predicting an explosion of innovation in Europe.
Additionally, Gemini has made a move to establish an engineering hub in India to tap into the growing pool of tech talent.
This expansion beyond the United States comes as regulatory pressures increase in the US, leading to what some perceive as a "war on crypto."
Despite these challenges, Gemini maintains its offices in New York under the Gemini Trust Company, LLC.
The United States continues to witness the departure of crypto firms due to its strict and often inconsistent regulatory environment, which is perceived as lacking clarity and adaptability.
The stringent regulations have created challenges for crypto companies, leading to concerns about their ability to thrive and innovate within the country. Unfortunately, it appears that the situation may not improve anytime soon, as the regulatory landscape remains complex and incomprehensive.
In contrast, Ireland is emerging as a promising contender among the top crypto hub cities. Gemini's decision to select Dublin as its European headquarters, along with the presence of other crypto exchanges and fintech startups, demonstrates Ireland's potential to become a competitive player in the crypto industry.
With its robust regulatory system, deep talent pool, and supportive technology community, Ireland offers an attractive environment for crypto companies seeking growth and innovation. As a result, the country is positioning itself as an alternative for crypto firms looking for a more favorable regulatory landscape and conducive ecosystem.