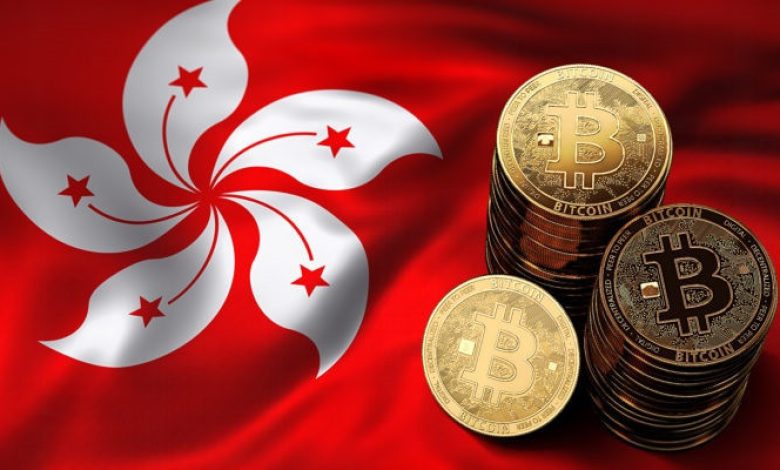 ZA Bank, the largest virtual bank in Hong Kong in terms of assets, is planning to introduce crypto account services and aid in crypto-to-fiat exchanges.
As a settlement bank, the institution will allow token deposits on licensed exchanges to be withdrawn in Hong Kong dollars, Chinese yuan, and US dollars, while also providing account services to crypto companies.
While the accounts for local crypto firms come after a trial in a regulatory sandbox that included about 100 companies, ZA Bank CEO, Ronald Iu, clarified that clients from mainland China will not be able to avail the service because of the country's restrictions.
According to Iu, only HashKey and OSL, the two licensed crypto exchanges in Hong Kong, currently provide currency conversions. However, ZA Bank plans to offer the same service once it becomes licensed, and this may be beneficial for US crypto firms struggling to find banking partners after Silicon Valley Bank, Silvergate Bank, and Signature Bank stopped supporting them.
Many from the crypto community believe that Hong Kong's regulatory approach, which is different from the US's hostile stance, could make it a successful crypto hub. Additionally, Chinese state-owned banks have shown interest in crypto firms moving to the city and are either offering them banking services or reaching out to them.
Iu stated that many interested firms, both local and foreign, are concerned about having a path to make things work.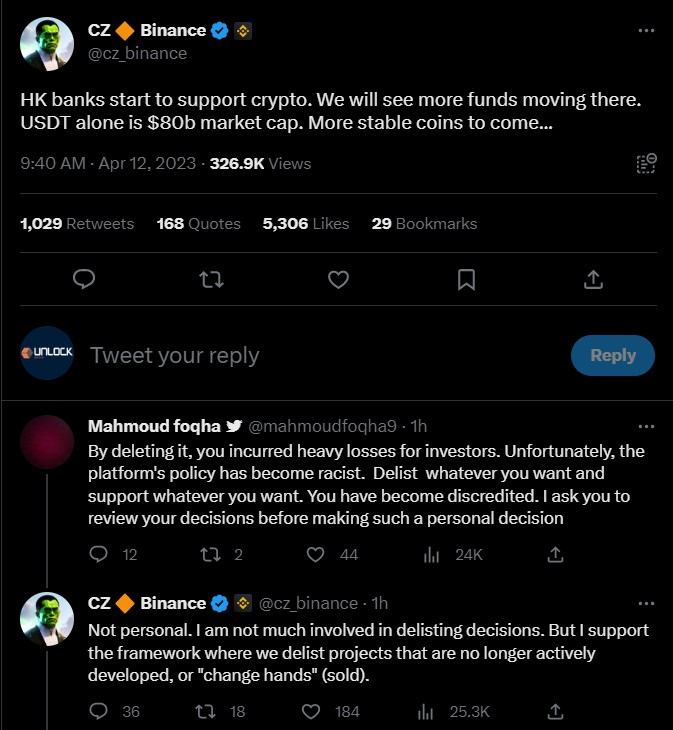 In a recent Twitter exchange between Mahmoud Foqha, a crypto enthusiast, and CZ, the CEO of Binance, Foqha criticized the platform's delisting decisions, calling them racist and harmful to investors. CZ responded by defending the platform's policy, stating that he is not heavily involved in delisting decisions.
He added that Binance supports a framework that involves delisting projects that are no longer being actively developed or have been sold to new owners. The exchange sheds light on the ongoing debate around delisting decisions in the crypto space and highlights the need for transparency and clear communication between exchanges and their users.
Hong Kong embraces crypto and web3 to establish itself as a global hub
Hong Kong's Financial Secretary, Paul Chan, has expressed his support for the adoption of Web3 and cryptocurrencies in the city, despite concerns over regulatory crackdowns and market volatility.
In a blog post on the official website, Chan outlined Web3 as one of the key focus areas for promoting high-quality development in Hong Kong. He believes that now is an ideal time to promote Web3's development and likened it to the early rise of the internet in the 2000s.
It is worth noting that the government has committed to investing HK$ 50 million (US$ 6.4 million) through the Cyberport incubator to accelerate the growth of Hong Kong's Web3 ecosystem. Chan stated that proper supervision and promoting development are essential strategies for ensuring that the crypto industry in Hong Kong grows sustainably and responsibly.
Chan also outlined two key strategies aimed at preventing systemic risks, strengthening anti-money laundering efforts and providing investor education.
Last week alone, at least four major seminars focused on Web3 and fintech took place in Hong Kong, with approximately 10,000 entities participating in individual events.
One of the seminars was a Web3-themed conference hosted by industry insiders that reflected Hong Kong's vision and development strategy for Web3.
The Hong Kong government is hosting the 2023 Digital Economy Summit, a two-day event that focuses on Web3 adoption at both the state and global levels.
These efforts demonstrate Hong Kong's commitment to becoming a global hub for cryptocurrencies, which has been fueled by the ongoing regulatory crackdown on crypto in the US.
Hong Kong's growing competition with Dubai and Singapore underscores its ambition to become the most attractive destination for crypto companies.